Padding in not an offence: Dogara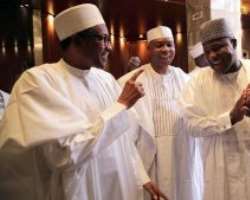 THE Speaker of the House of Representatives in Nigeria, Yakubu Dogara, says he will not resign despite allegations of budget padding against him. Dogara made the statement after a meeting with President Muhammadu Buhari on Friday.
Talks at the meeting were believed to be largely focused on the budget padding scandal rocking the lower legislative chamber. It came a day after the ruling All Progressives Congress asked the Speaker to stop further public comments on the budget padding issue that had triggered diverse views.
A presidency source said Dogara had requested for a meeting with the President over allegations levelled against him by a former Chairman of the Appropriation Committee of the House, Abdulmumin Jibrin. Shortly after the meeting with the President, the Speaker of the House told reporters that despite the allegation of budget padding, he would not resign.
He said that budget padding was not an offence. The Speaker further emphasised that he had been a lawyer and a member of the House for a long time that the word padding had never been an offence and that those who allege of padding of the budget should be the ones to prove it.
On whether there would be sanctions against Mr Jibrin, the speaker said: "The ethics committee of the house would determine that". Asked if he was worried over the allegation, he said it was nothing to be worried about. "Why should I be worried?" he asked.
Budget padding scandal resurfaced months after the budget was passed by both the Senate and the House of Representatives, with Mr Jibrin submitting a document to back his allegation against some members of the House to four federal government agencies. He indicted Dogara and 11 others in the document.
The petition was submitted at the Independent Corrupt Practices and other Related Offences Commission, the Economic and Financial Crimes Commission, Department of Security Services and the Police headquarters all in Abuja.
During the period the legislative arm of government was deliberating on the budget before its passage, the executive had accused the legislature of adding a project that was not in the document sent to them for approval. But the legislature insisted that it had only helped the executive to put a poorly documented budget in a better shape. – Channels Televisions