Olympics: Why I lost shirt to Dosu at Atlanta 96 – Babayaro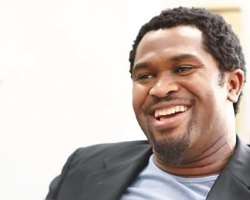 Former goalkeeper Emmanuel Babayaro, one of Nigeria's heroes at the Atlanta '96 Olympics, speaks with Goal about how his team stunned the world in the United States of America, what made the team tick and why the country has failed to build on the success two decades on.
It's 20 years since the Nigeria U23 team won Africa's first Olympic football  gold. How do you feel being a part of history?
Unarguably, it is one of the defining moments of our career so it remains forever green and the royalty keeps flowing in. We still receive accolades for that feat. You are driving and the policeman stops you, looks at you, remembers you and says you are our Atlanta '96 hero. There is a lot of greatness that comes from it because basically, we are being defined by that moment. The likes of Celestine [Babayaro], 'Jay Jay' [Okocha] and [Daniel] Amokachi got their best contracts as footballers after the Olympics because they were able to play in the biggest clubs in the world. If you ask us, that is our biggest achievement ever in football.
The team had two home-based professionals in the squad to the Games and you were one of them. You must be thanking your luck for being among the chosen.
I won my place on merit. Besides, we were coming from a situation where Clemens Westerhof, then Super Eagles coach gave priorities to the home-based players. You remember that under him, for every starting lineup, you will discover that half of them were home-based talents. Whether home-based or foreign-based, we were given equal opportunities in terms of performances. If you are performing better than your foreign-based colleague, you would be given the spot. I remember vividly that Manga Mohammed almost made the squad ahead of Tijani Babangida but a last minute decision ruled him out. So, having a chance to represent your country was not automatic like it is today, you have to really work hard for it. The team had been in camp for long, we played during the All Africa Games and some of us (home-based players) had made good cases for ourselves even before the foreign professionals came on board. It was just too difficult to push aside the home-based players with many making the trip to the United States before being dropped at the last moment.
So what made the team so thick despite failing to dazzle at the Harare 1995 All Africa Games and a massive underdog going to Atlanta.
Our strength was in continuity because we knew ourselves very well. There was a blend of the Japan '93 squad that won the U17 World Cup, Mauritius '93 Flying Eagles and Super Eagles, so when we came together, we had already known our strengths and weaknesses and we were able to complement each other. Also, we knew the importance of representing the national team. Unlike other teams, we didn't rely on an individual player. We played as a unit and everyone was a potential goal scorer.
Having lost 3-1 to Togo in an international friendly before the start of the competition, I'm sure the team never fancied their chances of even getting to the knock out phase
And for our defeat to the Togolese team before we departed for the USA for training, that to me was a crazy moment because we were on break and we had to pick most of the squad on our way to the stadium. People like Jonathan Akpoborie, Kanu and the likes got picked up on the road to come and play the Togo team. The defeat didn't mean anything to us because we knew we were not prepared. In the USA where we camped, we perfected our strategies and played some friendly games and never lost any. At the beginning of the Olympics we did not but at a certain point during the competition we felt we can. The hour of reckoning where we believed we could came against Brazil when we lost 1-0 during the group stage. We felt they were the big names we heard about and saw on television yet, couldn't do much. We started believing and drew inspiration from them to beat the likes of Argentina and Mexico to emerge as champions.
You lost  your starting role to Dosu Joseph during the championship. Is that your biggest regret?
My only regret at that time was my behaviour because I remembered coach [Johannes] Bonfrere and his assistants coming to apologise to me. I was number one before the start of the Olympics and had an outburst, was mad at the technical crew and even insulted them. Growing up, I discovered that there was a need for me to have stooped in a bid to conquer. Even at that, the coaches gave me the respect of talking to me first, apologise and make me understand their decisions. That showed I was an important member of the team.  If I had known what I know now, I wouldn't have acted in such a manner because the gold medal was for all of us. Dosu was, still is and will remain my great friend, brother and we relate very well.
The Dream Team clawed back from a two-goal deficit to beat Brazil in the semi-finals. Can you tell us what happened off camera during the game?
At a point when the camera was on me, I was assuring Nigerians that we were going to come back and win. During the halftime break when we were [two] goals down, we were staring at ourselves and I guess it was Taribo West chanting that there was no big deal about Brazil and we have nothing to lose. So in the second half we went into the game with confidence and a fighting spirit. Jo Bonfrere was a masterpiece when it came to substitutions because all the changes he made resulted into a goal. So each time there was a substitution, we were confident it was going to result into a goal. That was what happened and we won. It was a team of destiny and everyone knew what it takes to represent the country and we were able to work together as a team to achieve a common goal despite our differences.
How would you rate the performance of your younger brother, Celestine who was one of the championship's shining stars?
Atlanta '96 was a defining moment in our career and Celestine was no exemption. That was why Chelsea got in touch with him. He was a growing star then, but his exploits brought him to limelight before Chelsea and the likes. He had an excellent tournament and he also scored goals as a defender.
And have you thought of how and why Nigeria failed to build on its 1996 success even as it campaigns in another Olympics two decades later?
That is the shame of our football. The same Brazilians we defeated in the semi-final played in the final of the 1998 World Cup and went ahead to win the 2002 edition. The biggest shame is that the Olympic team did not make it to the 1998 World Cup; it was an entirely different team who qualified us for France. That was where it all began and continued till this moment. - Tribune.