MISSING 'CHACHA': MORE TROUBLES FOR UGWUONYE, AS POLICE UNCOVER HIS MANY LIES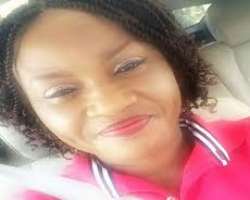 Destiny Ugorji
More discoveries have been made in the on-going investigation into the sudden disappearance of an Abuja-based woman, Charity Aiyedogbon. A Lagos-Maryland-based lawyer, Emeka Ugwuonye may have been implicated, with several evidences allegedly suggesting his complicity.
Ugwuonye, who was drilled for several hours at the office of the Inspector General of Police, Abuja, Wednesday, was shocked, when he was confronted with evidence suggesting that he had been misleading the public on the matter.
Barrister Ugwuonye claimed to have been in the United States as at the time of Chacha's disappearance and only came into Nigeria in June, after being briefed to handle the matter, but his call log betrayed him, showing that he was in Abuja on the 10th, 11th and 12th of May, 2016; same time Chacha is said to have got missing.
Information from private investigators and telecommunication service providers revealed that Barrister Ugwuonye made calls around Jabi area of Abuja, up till midnight same 10th and 11th and departed Abuja on the 12th of May, 2016.
Ugwuonye had claimed in some of his posts on Facebook that the missing woman was killed on the 10th of May, and her corpse discovered on the 11th by School children around Gwarimpa area of Abuja.
Police sources say Mr. Ugwuonye must show Police the corpse he said he has and a DNA test conducted on it to ascertain whose body it is.
Questioning on his evidence against the former husband of the missing woman, David Aiyedogbon, whom he claimed killed her, Ugwuonye was apologetic, saying he accused him directly, following what he was told by Chacha's friends, as well as one of her posts on Facebook, alleging mistreatment from the ex-husband. Recall that in one of Ugwuonye's posts, he said:
"I now have overwhelming evidence that Mr. David Aiyedogbon killed his wife, Chacha. David has an idea of the kind of evidence at my disposal."
In another post, he said: "this is the headless and dismembered body of Charity Aiyedogbon (posting a corpse on his Facebook handle). DPA has been able to identify this as her body within the limits of resources at our disposal."
Sources say Ugwuonye had reached Mr. Aiyedogbon's lawyers, pleading with them not to sue him for character defamation, pledging to apologise to him publicly for the false allegation and the damage done to his name.
Reports also say Ugwuonye's lawyer, and one of the investigating Police officers have also concluded plans to initiate individual suits against him for allegedly claiming that he saw the lawyer giving an envelope containing cash to the Police officer, an allegation he also could not substantiate, when confronted.
Another worrisome development is his suspicious relationship with some of the suspects, who may have also indicted him in their statements to the Police. One of them whose name was given as Iyke is quoted as saying: "Emeka Ugwuonye knows everything I know about Chacha's case."
Further investigations show that Iyke is an elder brother to one of the prime suspects, Jekwu, believed to have been with the missing woman until she got missing. Her vehicle and handsets already recovered by the Police were also traced to him (Jekwu).
Iyke is believed to have given the Police a clue on the whereabouts of the car and handsets.
Police sources further say that the day Police was to arrest Jekwu in Enugu, Ugwuonye personally called the Police, promising to produce him, thereby paving way for his escape, only to call back later the next day to say he had escaped.
Agenda online reliably gathered that the Police had prepared over thirty (30) questions for Mr. Ugwuonye to answer, in relation to the missing Chacha's case.
Our correspondent also gathered that the Lagos lawyer may be charged alongside other suspects in the matter, for alleged complicity.
Sources say, the startling revelations and possible indictment by the suspects may have been responsible for Mr. Ugwuonye's earlier post on Facebook, announcing his withdrawal from the case, a development Police sources described as diversionary.
Apart from the criminal charges, Ugwuonye may be facing about three other suits bothering on defamation of character.
He is required to report at the office of the Inspector General of Police on the 18th of August, 2016.
Stay tuned!
Disclaimer:

"The views/contents expressed in this article are the sole responsibility of the author(s) and do not necessarily reflect those of The Nigerian Voice. The Nigerian Voice will not be responsible or liable for any inaccurate or incorrect statements contained in this article."
Articles by Chike Duru