I have no personal quarrels with Rotimi Amaechi: Gov Nyesom Wike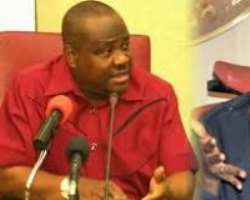 Rivers state governor, Nyesom Wike,  said Friday that his festering misunderstanding with the transport minister was largely political.
Amaechi, who is the immediate past governor the state , has bee locked in a battle for the political soul of the state, with balance of power tilting more towards the Wike and his peoples Democratic Party.
Speaking at All Nigeria Editors conference holding in Port Harcourt capital of Rivers State.
He said,  "There is nothing personal. We differ politically because we belong to different political politics. We want peace in the state and it is my desire to ensure that the state is peaceful."
"We should make sacrifices for peace. The state must move on. We only differ politically and that should not be to the level that will destroy the state," Wike said while canvassing for peace and unity in the state and country.
The governor used the opportunity to call for free-and-fair election in Edo State where the governorship election holds next month. He particularly urged the incumbent governor of the All Progressives Congress in the state, Adams Oshiomhole to ensure that the atmosphere for free elections should be provide to let the will of the people prevail.
He said it was because the administration of former President Goodluck Jonathan allowed free election that enable oshiomhole to emerge as governor of the state on the platform of then opposition party.
According to the Rivers governor, now that the table has turned the onus is on Oshiomhole to ensure that the coming election is not manipulated or rigged outrightly.
He said that it was against such background that Nigerians should remain ever grateful to Jonathan who chose the part of honour by conceding defeat during the 2015 general election.rather than plunging the country into crisis.
"Jonathan should be commended for this single act. People should emulate this move to ensure peace in the country," he said.