Brooklyn Tabernacle Singers Pay Courtesy Call On Airtel Ahead Of Airtel Adom Praiz Today Friday 5th August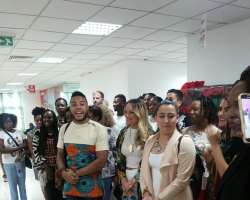 The lead performers at Airtel Adom Praiz 2016, Brooklyn Tabernacle Choir visited the headline sponsor, Airtel Ghana on Thursday 04 August to interact with management and employees of Smartphone Network ahead of the event on Friday, August 5.
The 26-member team performed some of the hit songs with employees of Airtel during the interaction to give them a taste of what to expect at the Perez Dome come Friday 5th August.
Welcoming them to Airtel, Managing Director, Lucy Quist said "you're welcome to Ghana and to Airtel. Since we announced that you will be headlining this year's performance we have seen some real excitement and I am certain patrons of Airtel ADOM Praiz cannot wait to worship with you at the Perez Dome on Friday.
Airtel has been headline sponsors for this event for the past few years because we believe that our customers and Ghanaians need such a platform to connect and to worship. We believe in offering our customers more than just telecom solutions – we focus on offering a consummate package that meets their lifestyle needs and this platform is one such events".
She continued "We are confident that patrons of Airtel ADOM Praiz will have a wonderful time tomorrow worshipping with you and all the other artistes tomorrow".
The equally excited international singers also expressed their profound gratitude to the telecom giant for sponsoring the event and for giving them a beautiful reception. They interacted with employees.
The Brooklyn Tabernacle Choir has won five Dove Awards and six Grammy Awards. There is no anxiety its singers cannot melt, no fear they cannot banish, no stony-heart they cannot crack into miserable pieces of submission, when the Brooklyn Tabernacle Choir open their super melodious voices in the spirit filled church ambiance.
Tomorrow's event will feature performances of local gospel favorites: Francis Amo, Joe Beechem and Obaapa Christie. Also for the first time, Airtel Harmonious Choir, an internal interdenominational choir from Airtel Ghana will perform at the event.
Patrons can get tickets from Airtel shops at Ring Road, ANC Mall, Achimota Mall and Accra Mall.
About Bharti Airtel
Bharti Airtel Limited is a leading global telecommunications company with operations in 18 countries across Asia and Africa. Headquartered in New Delhi, India, the company ranks amongst the top 3 mobile service providers globally in terms of subscribers. In India, the company's product offerings include 2G, 3G and 4G wireless services, mobile commerce, fixed line services, high speed DSL broadband, IPTV, DTH, enterprise services including national & international long distance services to carriers. In the rest of the geographies, it offers 2G, 3G and 4G wireless services and mobile commerce. Bharti Airtel had over 358 million customers across its operations at the end of June 2016. To know more please visit, www.airtel.com
About Airtel in Africa
Airtel is driven by the vision of providing affordable and innovative mobile services to all. Airtel has 17 operations in Africa: Burkina Faso, Chad, Democratic Republic of the Congo, and Republic of the Congo, Gabon, Ghana, Kenya, Malawi, Madagascar, Niger, Nigeria, Rwanda, Seychelles, Sierra Leone, Tanzania, Uganda and Zambia. Airtel International is a Bharti Airtel company. For more information, please visit www.airtel.com, or 'like' the Airtel Ghana Facebook page via www.facebook.com/airtelgh or follow us on Twitter via the handle @airtelghana.