Naira hits 400/dollar as CBN pegs Hajj rate at N197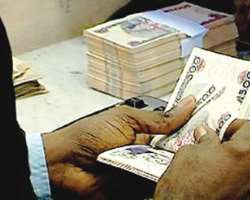 The naira plunged to 400 against the dollar at the parallel market on Thursday as shortage of foreign exchange continued to have negative effects on economic activities in the country.
The local currency had closed at 390 against the greenback on Wednesday.
The shortage of forex at the interbank and the black market has continued to weigh on the value of the naira.
After closing at around 378 against the dollar for most part of last week, the naira dropped to 380 on Friday before falling to 382 on Monday.
The currency closed at 315.06 to the United States dollar at the interbank market on Thursday.
Economic and financial analysts have linked the wide depreciation in the value of the naira against the dollar at the parallel market to huge demand for forex by holidaymakers seeking to travel abroad.
However, some experts said the huge demand for forex at the parallel market was beyond the normal summer rush.
They linked the development to the activities of speculators and significant demand by manufacturers and importers whose demand was not being met at the interbank market.
Meanwhile, as the Federal Government begins the airlift of intending hajj pilgrims on Monday, the Central Bank of Nigeria(CBN) has extended a concessionary exchange rate of N197 per US Dollar to them.
In its circular entitled '2016 Hajj Operations: Purchase of Pilgrims Travelling Allowance (PTA)' sent to all authorized dealers and general public and posted on its website on Thursday, the apex bank states that arrangements made for the Hajj operations including the pegging of the US dollar at N197 was to enable the intending pilgrims purchase their PTA.
The circular reads in part: 'Authorised dealers and the general public are hereby notified of the following arrangements for 2016 Hajj Operations:
Each pilgrim is entitled to purchase a minimum of US$750 and maximum of US1,000 as PTA.The Federal Government has approved that intending pilgrims are to be sold the PTA at a concessionary exchange rate of N197 to the US dollar.
'No commission shall be charged by the banks for the sale of PTA to the intending pilgrims. CBN shall sell the PTA to the designated banks in Lagos and Abuja and the accounts of the respective banks shall be debited as soon as the funds are disbursed.
'Each designated bank is required to sell to the CBN the unutilised funds not later than two weeks from the date of the last inward flight to Nigeria from Jedda, while the accounts of the banks shall be credited promptly.'
'The approved schedule showing the distribution of the pilgrims expected to perform the 2016 Hajj and the designated banks that will handle the sales of the  PTA to the pilgrims in the FCT, each state of the federation, the Armed Forces and the National Hajj Commission Headquarters, is stated' in the schedule for guidance.