I Wandered In The Bush During Ibru's Election, Okowa Reveals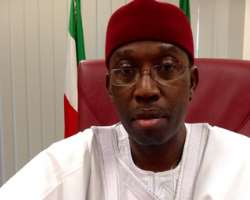 Twenty four years after, Delta State Governor Ifeanyi Okowa has opened up on how he strayed in the bushes of Ika North East local government council in the election that produced late Olorogun Senator Felix Ibru as governor of the state.
In previous elections and the 2015 governorship election that produced Okowa as governor of the state, Ika North East council area of Delta North has been alleged to be a very hot-blooded council where elections are allegedly rigged in favour of the anointed one.
Okowa who made the disclosure during the Valedictory/Tribute Session held in honour of late Ibru in Government House Asaba, before the remains was taken for final burial said, "A girl led me out of the bush till I found safety".
According to the governor, he was the council chairman, "and I wanted him to win at all cost because Ibru was an outstanding candidate. At the collation centre, fight broke out and I was able to escape into the bush but at then, the results have been declared".
The governor also disclosed that his father, Arthur Okowa was the Delta North campaign coordinator of late Ibru's governorship campaign.