Boko Haram: I'm still around – Shekau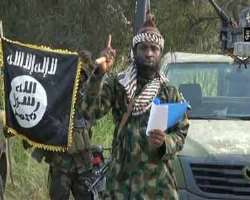 Boko Haram's elusive leader Abubakar Shekau said in an audio message on Thursday he was still around despite his reported ouster as leader of the Nigeria-based jihadist group by the Islamic State (IS).
'People should know we are still around,' Shekau said in a 10-minute audio message.
The Islamic State named Abu Musab al-barnawi as the new leader of Boko Haram on Wednesday.
It is not clear what would or has become of Abubakar Shekau, who had led the terrorist group since its founder, Mohammed Yusuf, was killed in 2009.
Boko Haram had pledged allegiance to ISIS early 2015. However, not much had been heard from Shekau since then.
He last appeared in a video amid speculation that he had been killed, declaring that the end had come for him.
'For me the end has come,' he had said in the video, which was subdued compared to his other videos in which he bragged and taunted the Nigerian government.
Under his leadership, the group had carried attacks in several states in the North East, killing thousands and displacing millions of Nigerians.
As part of its activities the group carried out several abductions including that of the 276 Chibok schoolgirls, who have yet to be rescued more than two years after the shocking incident.
It also claimed responsibility for attacks on the United Nations Office, Abuja as well as blasts in the Nyanya axis of the Federal Capital Territory.
A late push by the Goodluck Jonathan administration and an onslaught by the current administration has resulted in the deaths and arrests of many of the insurgents with survivors retreating into the Sambisa Forest. – AFP.