Those who say I'm arrogant are ignorant –Onyeka Onwenu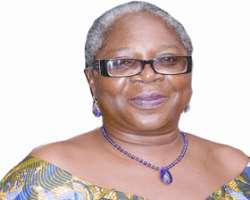 Onyeka Onwenu is a name that is synonymous with good music. If nothing confirms this, her evergreen song, One Love, does. She sings with passion and her lyrics are always very rich. But
suddenly, she made a u-turn, veering into the world of Politics. She contested for the post of the chairman of Ideato North Local Government Area of Imo State. Although she lost, she is unrelenting. She has a mission: to impact positively on the lives of the generality of Nigerians. Of course, she finds music very handy in this project and promises to use it as a good vehicle for the desired change. Onyeka Onwenu spoke about her life and other pertinent issues to BUKOLA BAKARE. Excerpts:
Why did it take you 11 years to release your new album, The Legend?
Well, I really don't know if my fans were hungry for it but I had to carefully research before putting a new album into the market. There was also the need to address the issue of piracy and copyright which I didn't like. A lot of pirates pirate your work and it's not good enough. The relevant agencies need to curtail the menace.
What was the experience like working on the album?
It was wonderful as I worked with young producers like Cobhams Asuquo, ID Cabassa, Demola and Yomi Omidiran. It was fun working with them all.
Were you not somewhat intimidated by these young ones?
No, I wasn't. As a matter of fact, it was a symbiotic relationship. I was learning from them and vice versa. I recall while we were working on the album, I'll serve them peppered rice (chuckles), so it was a wonderful experience working with them on The Legend.
At what point did you decide to veer into politics?
It was in 2002 that I got the calling and it was truly a calling. It wasn't something that I sat down and rationalised that okay, what do I do now, I'm going into politics. No. I just clearly heard it in my spirit mind: "Why don't you go into politics? You can offer so much there!" When the call came, it said the local government, it didn't say the Senate or a gubernatorial seat , House of Assembly or Representatives, it said local government. Initially, it didn't make any sense to me, but then I obeyed and got into it. I began to realise how important the local government was, it is the closest to the people because if you do well at that level, you've done well all over the country. It is so important but in Nigeria, we don't realise how important the local government is, so we have left people to play ball with it, so to speak. Anybody wakes up and goes in there and says, "I'm a local government chairman" and distributes money and that's it. The state is working so hard but the impact of the governor is not being felt because he is not being complemented by what the local government chairman is doing.
The federal government is working so hard but it's not being complemented. But if you get this particular arm of government to work very well and make the environment conducive for business and development, it will be very good. If you have the education system working in the primary school and teachers have been trained and paid well because there's rot at that level, it will be well for the society. I remember growing up with quality education. When I went to America, I was the top of my class in Literature, English, Biology... I didn't do so well in Mathematics but everything else, I was top of the class. It was because of the quality of the education that I got.
It's really so sad that you find people graduating from the university and they can't write, spell and communicate. How do you become a lawyer if you can't plead your case, for goodness sake?! How do you become a doctor and you can't read? How do you write research? There's a huge problem in this country, we are failing, our children are failing and can't even speak our local language. We speak awful English to them, so they are neither here nor there. English they can't speak and same goes for their local languages. We have a lot of problems in this country and it is at the local government level. You have people who take their businesses out and go to the big cities whereas they could well remain in the local government and provide employment. You can also encourage training, trade. In Nigeria, we don't have carpenters any more, maisons, all those basic things, we bring people from Ghana, Benin Republic and our young people are out there on the streets driving okada. Everybody gets a motorcycle, no training, nothing and they are on the streets. How do we develop?. Where I come from, we produce palm oil. Bye-products of the palm fruits and tree. From the leaves to the root, everything is useable. There is so much that we can do and even to grow food, feed your family, grow vegetables and provide them with the infrastructure. Form co-operatives to be able to sell their products.
Interestingly, when there was a problem in Jos,people couldn't feed in Lagos, couldn't buy meat, pepper, tomatoes, carrots to make salad which I make. There is this five course meal that I make for the family every Sunday. We don't grow food near to us so when we have a problem, we can't feed and that is really sad. We have good soil for rice yet we are importing rice.
My local government is going to be encouraging local farmers to grow beautiful rice so that we can sell to neigbouring states. We are importing rice because we don't have enough to feed the people of this country. We need to grow cocoa in industries.
People buy a little jar of cocoa butter for over a thousand naira when we can make it ourselves. With shea butter, we can make our own cream. There is so much when you sit down and really think and it's not for the local government. Provide the information and enabling environment and people will rush in. Young people graduate from school and they can't get a job to do. Create your own work! Don't go looking for jobs in the bank, create your own job and begin to manufacture! Teach them about canning and preserving food. A lot of times, we produce and we throw away.
When I was living in America, there was this store in New York, I practically would walk in there everyday and get corn that were specially prepared . I could get pawpaw which were dried; Dried pineapple and different kinds of nuts were available. Why can't we produce those things here and export?
I can go and on, so it's a question of training and educating people, providing information. We have always been hardworking people, yet you find a lot of a lot of young men hanging on the streets. The other day, I went to buy a battery near Ikeja bus-stop and when I stopped, ten young men pounced on me that I should give them something. Then I said 'shame no dey catch una, give you what, you can't work'. It shook them off. I said "I'm not giving you a kobo, if you can't work, go to the village, get land and begin to farm."
We can reduce crime by providing a way for these young people to make honest living. They'll be proud of who they are and contribute to the development of the society.
Let's have an insight into your background. Who was Onyeka as a growing child?
Precocious, stubborn, very confident, very simple, very focused. I have always known where I am going; I have always known that I would be a singer; that I would succeed. I'm a child of God. In my family, education is important, my father was an educationist and because we were raised by a widow, you didn't feel like putting her to shame because she would blackmail you emotionally. You just didn't want that emotional blackmail, so, the best thing was to do well. That was the kind of person that I was. I am from a very strict background as well; my mother was very strict, you didn't bring anything into the house that you didn't buy. You didn't stay out of the house at a given time. If you were going out, she would know where you were going and what you were going to do there. She was also liberal, you could bring your friends to the house if you had 'boyfriends' because our boyfriends in those days were from afar. If you wanted your boyfriend to visit, he could visit the whole family and the whole family would be in the sitting room either singing, praying or reading the Bible. We did things as a family. It wasn't a situation where you went up to one corner with him. Oh no, and my mother would say, "is that your boyfriend, you are welcome" and want to know his parents. So, that's how I grew up.
Did you play any pranks while growing up?
No, I didn't. I think I was pretty serious as a child. My immediate elder sister was the one who played the pranks. She had that title, she had taken the title from the family, I was the serious one.
Looking back now, how has your journey been like in the music industry. Have you had any ups and downs?
(Pauses) I had major ups and downs but I would say that God gave me the grace to come into the music industry and shot me straight to the top. He has kept me there and that is awesome. He has given me the kind of songs that are so enduring over the years, lyrics that are uplifting, beautiful songs that are evergreen. So, it wasn't difficult in that sense. Maintaining it has also taken hard work and giving up a lot of things.
Like what?
At the time I came in, women were still seen as prostitutes. If you were in the music industry, all you were doing was sleeping around with men. So, by your conduct, you had to bring honour to women. God has given me the grace to do that and I refuse to be insulted and put down by any one because I am a woman. I don't take it. I demand respect; you must give it to me. I have earned it by my conduct and hardwork. I won't want to give you a reason to insult me because when you do, I will stand firm and tell you no, I am not going to take it.
How did you come about the name "Elegant Stallion"?
It was a journalist, Azuka Molokwu, who came up with it. He used to write for The Punch, I don't know what he meant by it but it stuck and that's it. Maybe the way I walk or carry myself, maybe my strength,. I don't know.
You work so hard. How do you combine motherhood with the demands of your job?
Luckily, my children are in the university and my first son has graduated. He is going back to graduate school. He is working as a Graphic Artist; he studied Animation, so he is very busy with his life. He is a young man of 24. His brother just turned 18 and in his second year in the university. The middle child, my nephew, is finishing this summer. The only child that I have at home is my mother who is 91 years old and as they (old people) get older, they become children again.
What is your relationship with your mother?
Ah, I don't want to get into that because its complicated. She is my colleague because she is a singer.
So, you must have got some of your singing traits from her?
Not some, I got a lot from her. Her father, my grandfather, had a beautiful voice. It's very interesting.
How would you compare your hey days to today as a musician?
They are having it easy now because we laid the foundation; we made sacrifices. We have fought very hard to bring up the industry and make sure that musicians are well paid. I remember when I tell people my value, they scream because they don't believe musicians should be well paid and I insisted. When some hear that a musician is paid N4 million, they scream, but it's no big deal really because when you look at everything that goes into it, you would not be surprised. Take a look at my costumes - what my band is wearing; the fact that we are rehearsing constantly etc. They are well paid today, so, they can focus on the job at hand.
What's your opinion about piracy, considering the fact that it has really eaten into the industry?
It has really eaten into the industry. Nigerian Copyright Commission should be up and doing. We, on our part, we've got ourselves involved in exposing the pirates to ensure that they are taken to court. Unlike before, it's a criminal offence, so if I have any information regarding pirates, I will hand it over to the appropriate authorities and we will pursue the issue so that that pirate is brought to book. If I see anyone pirating The Legend, God would intervene because it's His work. The proceeds from the sale is for my church's building fund. So, if you touch it, God will deal with you on the spot.
When you contested for the primaries of the chairmanship election in Ideato North local government of Imo State, a lot of people concluded that you lost out because you were somewhat arrogant?
(Cuts in) I didn't make it because a lot of people didn't want me. People who said that I'm arrogant have never been to my place. If they have, they will know that I am a grassroot person. If you think I am arrogant... Yes, I'm arrogant and I go to the market to buy things; I cook all my food, I clean my own house. I'm arrogant and I go to farm and I can sit with anybody and relate to the king, pauper and even the middle class people. I can relate to men and women, children and the youths and everybody is excited. They know nothing about Onyeka Onwenu.
What is your relationship with artistes such as Lady of Songs, Christie Essien-Igbokwe, Charly Boy and Ex-PMAN president, Tony Okoroji?
Christie is a woman with a great sense of humour and we have this thing joke between us that I am married to her second son. Each time I saw her then, I would tell (as my mother in-law) 'look, I no dey see money for food o' and she always says I was lying. And when she had her third son, I said maybe I would change my mind and marry that one as he appeared to be more handsome, and she would say, "You have no shame."
As for Charly Boy, we may disagree on certain issues but I think there is a great deal of respect that artistes have for each other between us. You don't have to be friends. His own case is even that we grew up together, our mothers were friends and the families knew each other. But I have other issues that I disagree with him. I would tell him to his face and argue it with him but it takes nothing away from the respect that I have for him. I will also relate to him as a brother but when it comes to issues such as the MCSSN, which I think they are just using him as a front, I will tell him to his face, "You are being used". I'd said it before and he knows it. So, that's the relationship that I have with him.
As for Tony Okoroji, I have worked closely together with him on COSON issue. At PMAN, I was the vice-president then. We had a mis-understanding and we dis-agreed to agree. These are people that I have tremendous respect for and I've continued to work with Tony Okoroji on COSON board. He is the chairman and there's so much we have done together. If you read his book, you find Onyeka Onwenu. You can't talk about what he has done in the music industry or what I have done separately because the two names go together. We have achieved a lot together but tomorrow, I can equally disagree with him on a point and make it known to him; it's as simple as that.
What was it like raising your children as a single mother?
I thought you wanted to ask me whether I am married or not and I am not going to answer that question.
How was it raising your kids?
It was interesting, very interesting. But if you think that you are the one raising them, you are a liar. It is God, you are just a custodian. I lost my father very early, I was very close to him and he loved me to distraction. My mother wasn't physically demonstrative and having to wear the toga of father and mother at the same time, you know she couldn't give me the same kind of love that my father gave. It was as simple as that. So, I made up my mind that I was going to be very close to my children. My house is such that if you wanted a physical hugging at any time you would get it. My children could come and sleep on my bed, say to me that they need a hug and I would hug them, anywhere, anytime. I am close friends with my children, they could talk to me about anything; you don't have to go to an outsider.
They could ask me any question and I would give them an answer and because I knew that they could ask me questions, I tell them the truth. I now had to behave myself because I wouldn't want to lie.
When your child sends you a text message and says, "I bless God for you and I am so grateful to God that you are my mother"... My God, what other compliment is bigger than that. This is what I get from my three children. I have raised my nephew since he was 18 months, so I call him my son.
How old is he?
He's 22, the youngest, Ibrahim will turn 19 in August and my elder child is called Tijani, he is a gentleman. The woman that he is going to marry is going to chop life. Ibrahim is romantic, very empathic, discerning. He would look at me and know if something is wrong. I remember when he was two weeks old, I just laid him on the sofa and I was talking to my house help "Why didn't you do this?!" I turned around there was this pair of eyes looking through my soul and I shuddered. It was like "Okay, I know you and this is you". My middle child who is my nephew is rock, calm, focused, studious and they love one another so much and that's what makes me so happy. If God takes me away, I know that they are going to take care of one another. I see the relationship between all of them and I am just so grateful. You have to be careful to let your life be an example; I'm not perfect but try and they will see your efforts; let your life be exemplary. Let them know that they are loved.
Guess that's one thing that is lacking in most homes?
Yes, we don't show love and it is needed. I love my kids and I let them know it. I am still going to punish you when you are wrong but you will know that I love you.
What is it with your hair cut, it seems to have become your trademark?
There's nothing to it, its just that its convenient.
Did you at any point have long hair?
Yes, I grew up with long hair. My hair was very thick and full, but once, when I used perming relaxer, I let it stay for too long and I just decided to cut it off. It was in America and once I cut it off, I began to enjoy the benefits of having short hair.
During the Abacha era, you were a part of the 1 million-man-march and a lot of people remember you singing his praises. Looking back now, would you say it was worth it to chart that course?
Let me state that I never sang anyone's praise and I have a tape to prove it. I was contacted, not for the million man march, I was contacted to raise funds for the Super Eagles who were going to France at the time and I have a letter to prove it and I negotiated. It was three days to the event that we were giving mobilisation fee to get the band to Abuja that I saw my name being advertised in the paper as one of the artistes to perform.
I quickly wrote a letter to Christie Essien Igbokwe who was organising it for PMAN and said that it wasn't what she contacted me for. I asked why didn't she tell me. I believe she handed over the letter to security agents at the time. She might have been under a lot of pressure, I don't know. I was called and given every assurance. Actually, there were two events going on at the same time - the Eagles would be there and money would be raised for them and I was being invited for that purpose and not to sing anyone's praises. Once I had that assurance, I went and if you look at the tape of the event, the Eagles were with me on stage and I sang One love,The peace song,Ekwe, Halleluyah Chimle. I walked away with the Eagles after everything. That was my participation in that event. Quote me. But when we want to bring somebody down, we go all out to twist things. I have given this explanation over and over again but there are people who have decided not to accept it. If you want to lie, you don't lie about something where there are evidence. I am not afraid of anyone. My mother will tell you that I don't fear anybody but my God. You can believe whatever you want to believe, say whatever you want to say, it does not change the truth.
Would you still go back to acting or are you through with that?
No. I enjoyed the films that I did and I would not mind doing more if I have a challenging script and good pay - that's important (chuckles) - because you do put a lot into it. Many of my films are still selling and how much was I paid? For Widows Cot, they paid me for one film and got three films out of it. So, I must be well paid for my work.
How rich is Onyeka?
I'm very very rich and I mean it. I'm very comfortable because I don't count riches in terms of how much I have in the bank. If you count it by that, well, my bank accounts are very empty and I'm running a campaign, taking care of my old lady and a lot of people; paying school fees as I've got children in the university, Eh! Ain't no money in the bank account! But I am very rich and comfortable. The fact that I can do all these and that I have not had to steal, I've not had to lie or taint my name, to prostitute myself, I must be very rich. I am and God is my provider and he meets me at the point of my needs and I will keep getting richer and richer so that I can give more into His work and kingdom. So, I can help other people. I look forward to the riches flowing in even more.
What are your future plans? Are there other things you want to do apart from music, acting and politics?
When I get into politics, I'm still going to be doing my music. I'm going to use the arts and entertainment to develop because it's a good way to draw attention to issues in my local government.
That means you would still be vying for the chairmanship position in your local government?
Yes, I am still vying. I'm out there attending rallies and talking to people. So, everybody knows this and they are familiar with my programmes and are excited. So, I have a lot of support there and it's a source of joy for me that my people really want me and they know that I am not going to let them down. They know everywhere that I have gone to. Even as the chairperson of the Arts Council in Imo State, working together with members of my board, I have really raised that place up. My governor also knows how focused, committed and dedicated I am to things that happen in my state. I have been tested and I've been there with my people. If mosquitoes bite them it affects me too. Everything that happens to them happens to me. I've been there with them at that level and they know.
So, it won't take its toll on your music in any way?
Mba nu, it would just make me use the music to teach even more. We'll source out people with talent and train them, bring them up even in the film industry because it's a way to create jobs and give them something to do. It's a place where culture is so vibrant and we are going to put it to very good use.
What is your philosophy of life?
Life is very simple. What gives me great joy is when I serve. I was happy the day we launched my CD in church.
Where do you worship?
Fountain of Life Church. I committed it to God and said whatever we raise there, we are building a church and doing so much work in education, sinking boreholes, setting up medical centres, we go to the prison to minister. We have done it before with my first gospel album, Greatest Love. God said do it here, and so, we were able to raise funds as there were people who keyed into the vision. All the royalties that should come to me will always go to the Fountain of Life Church.
Why do you do that?
It's because God asked me to and I know that because I have obeyed him, he is going to take care of me. What can I give him that can measure to what he has given me already and I am expectant for more. Each person that was sowing got something in return; things were happening, left right and centre.
Where do you draw your inspiration from?
From God. We are mere vessels. The day you begin to think that you are the one writing your songs, you are not the one. There was a song I wrote in the studio, the first track says "When I consider all your works, I am grateful, who is man that he should be mindful...." It just came one morning and there was Psalm 8:3 in the Bible. He gave me a song with a Yoruba word. My children are Yoruba but I don't speak Yoruba that well.
Why is that so? One would expect that you speak Yoruba well because of your children's background?
In old age, it's difficult to learn a new language. I do understand but this particular word, I didn't understand and God gave me the last line 'koleshe'. Then, I asked for the meaning and they said "he will not do". So, I was wondering, what will he not do? Then I had this profound revelation that there is no prayer that God cannot answer. I asked myself, which design would I rather have? I'd rather have the design of the Lord and I wrote the song' there's no good thing my God shall withhold, no prayer goes unanswered according to his will, no prayer, no request will he not hear, ko ma si ohun ti Olorun mi koleshe'
How would you describe yourself?
Very simple, when they say I am proud, I look at myself and say, you have no idea. If you come to my house, who cares if you are Onyeka? It doesn't enter anybody's head. I'm like everybody else in the household and I do my part. Nobody sees bodyguards. When they see me at an event, I just walk in alone. Maybe I'll have my office manager help me do one or two things, I don't have time. It takes energy to pose and be arrogant. I am myself, very simple but what I do know is that I have this self-assurance that I am special. No doubt about it. I am very special to God. I lost my dad so early, so God's also my earthly father. With that interaction that I have been having with him, it gives me such confidence that I can do anything through Christ who strengthens me.