An Intimate Chat with The Figurine's Kunle Afolayan and Ramsey Nouah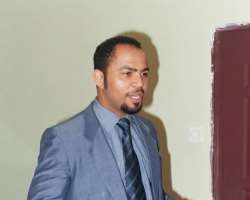 Ramsey Nouah, the "Lover Boy" of Nollywood, is so famous he cannot walk through Brooklyn without attracting a crowd. And the latest film he's starred in – The Figurine (Araromire) may just be his best. After all, the masterpiece of director Kunle Afolayan just picked up the Best Picture statue at the prestigious African Movie Academy Awards and scored Nouah a Best Actor trophy.
At the New York African Film Festival, Both Nouah and Afolayan spoke after the New York premiere of their love of the art, their hopes for a rejuvenated Nigerian film industry, and the challenges they faced. But we could barely hear it all through the swoons and sighs for Nouah…
– Christine Folch
Ramsey Nouah: It's a great pleasure to actually be part of the New York film festival. It's my first time. I've been in the Nollywood industry for twenty years and this is my first breakthrough.. Mostly, we know that our films are being consumed by the Africans and Diaspora all around the world, but this one cuts across both ways.
I remember vividly when the producer-cum-director-cum-actor-cum-executive-producer cum everything you can think about, Kunle Afolayan, approached me about the movie. I thought, "Oh, wow. This is a great movie. I'd like to be identified with it." And I am so, so impressed by the outcome and the embrace that it's gotten from virtually everyone where it's been shown. We've had a couple of premiers around Africa and Europe and it's awesome. The turnout was unparalleled–it was the first of its kind. Everyone has thought, "Oh, wow.
This is a brilliant piece of artwork."
Cue: Females in the audience swoon. A member of the audience asked director Afolayan about his father, Ade Love, and what African cinema needs to grow or has to offer.
Kunle Afolayan: I think we all need to come together — Francophone, Anglophone, Ghana, Zimbabwe, Nigeria. We need to start collaborating, because I think that is the future of African cinema. We have lots of stories that are yet to be told. The only way that this can be done is when we leave all the barriers, when we leave that border which causes problems and concentrate on the fact that we have a common interest, which is art, which is film. I've met a couple of filmmakers here and all we do is ask, "How do we take the industry forward." We all watch Hollywood films and these days all they are trying to do is repeat old stories. But we have untapped stories that need to be told.
Funding is a major problem. It's always difficult for an average independently made film from Africa to get mainstream distribution. And if that doesn't come, how do we recoup our investment, how do we make another film?…. Nobody's even looking at big pictures, cinema. But for me, I said this is a do or die thing. Because I grew up in cinemas all over Nigeria. My father was a filmmaker and while growing up, I used to tour some of his films. In fact, I was on tour when he died. I didn't know until three days after because there was no GSM to call to say, "Your father was dead." I read it in the newspaper, in the line of duty. [Cinema] is what I want to do. We have filmmakers out here who have great films, who need your support.
An audience member chimed in to ask about stardom in Nigeria. Whereas most Nollywood pictures — which grow a star's reputation — shoot in a few weeks, these Nollywood stars were dedicated to The Figurine. How did the director accomplish that?
Kunle Afolayan: Our actors are getting very popular, but nothing is going to the producers.
Ramsey Nouah: Yeah, empty accounts.
Ramsey Nouah: In the eye of the beholder.
Kunle Afolayan: But if we check Denzel's account and we check Ramsey's, there's no room for comparison. Ramsey has never been on a
movie set for three months. But because they all believed… I paid Ramsey what he gets in five days, in fact, lower than what he gets in five days. The movie was scheduled for one month, but things went long, the days strayed and they all stayed.
An audience member asked a question about the message of the film.
Kunle Afolayan: In Nigeria, when we watch films, we always wait to see the message….The main motive behind this kind of story is because we are so religious in Africa. I'm upset because all the cinemas have been turned to churches. All the cinemas that were set up in the 60s and 70s have been turned to churches. I would like us to go to cinemas. When things happen to us, positive or negative, we put most of the blame on god. If it's good, we say "O God, thank you." It's bad, we say "Devil!" We don't look at ourselves…
Everyone thinks that it's Araromire doing the whole thing. But in the end, people have different opinions. I've received emails…Some say it's Femi. Some say Araromire used Femi. Some people said Araromire was doing his own thing. I have my own reservations as well, but that's really the motive behind it. Let's leave God to do their thing and let's fulfill our obligations as well.
The audience asked the filmmakers to speak on why they think the film is finding such an audience, connecting with people, as compared to other Nollywood films:
Kunle Afolayan: People already have a perception towards Nigerian movies — Nollywood. When I did my first film, Irapada, and I got a few foreign juries to see it, the first thing they said was, this is not Nollywood. And so, I ask myself, what is Nollywood?
[The Figurine] is different from an average Nigerian film. Right now in Africa, gone are those days when we see films from Senegal — real films — from Nigeria. My father was one of the film pioneers in Nigeria and it was serious business. From the late 80s, things changed and people couldn't afford to shoot celluloid film anymore. But people still wanted to provide content, to entertain. They downgraded to video, but we decided to open a new page.
The Figurine is opening a new page for the Nigerian film industry. Now videos are not even making as much money, because tomorrow it's out on the street, pirated. But we followed the standard distribution framework where you shoot a standard film that can go to the cinema, make some money. Then from there your film gets to the festivals and then you meet distributors and those who fund films and you go from there.
I want to be able to do films that will not just appeal to a Nigerian audience, but all over the world, to the average movie lover regardless of where you're from, whatever language you speak. All this I put in my story, from sound to story to audiovisual — all the things I'd want to see…. [SPOILER] People loved the twist in the movie. I think that really worked. I know people who've seen it more than five times and I get emails every day. I think the twist really helped, because from the beginning to the middle of the movie people said, yeah, you know, it's the juju in Nigeria, it's Araromire. But when the twist came, people got confused and it got more interesting.
An audience member asked about the "Nigeria factor":
Kunle Afolayan: We have a Nigeria factor. I hate to talk about this, but we're Africans. And this is a general thing: there's no power in Nigeria. Electricity, you have to provide it yourself. So we had a standby 50 kVA generator, which we took around. [SPOILER] I remember when we were trying to shoot at the beach house where Ramsey killed everybody.
Ramsey Nouah: Where Femi killed everybody!
Kunle Afolayan: We were trying to move all the equipment because you can only get to the island by boat. We were trying to move all the equipment and put the generator on a boat and it capsized. We shut down for over a week. And when we resumed, we got smaller generators because we were using heavy lights. One of them went crazy on us and everything we brought blew up. The battery, the charger got burnt and we had to break again. So many challenges, but in the end we have the film and we are proud to have done this.