We're marginalised, Igbo leaders tell Buhari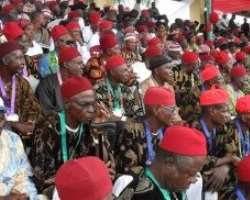 The people of the South East did not mince words on Monday when they told the Federal Governmnet at a town hall meeting in Enugu that Igbos are marginalised by the present administration led by President Muhammadu Buhari.
Speakers at the meeting included the Archbishop of Enugu Anglican Ecclesiastical Province, Most Rev. Emmanuel Chukwuma, traditional rulers and other stakeholders. They enumerated areas of marginalisation to include appointments, budget allocations as well as infrastructural development.
The former information minister, Chief Nnia Nwodo criticised the government for being slow in delivering whatever it has in stock for Nigerians.
"Can you hasten the pace at which policies are reached; we have listened to great programmes lined up for Nigerians, fantastic ideas but when will they be implemented?
"The people of this part of the country have felt marginalised for a very long time. You didn't create states; when states were created we were short- changed. When local government was created we were shortchanged.
"I know local governments that are not as populous as two towns in my local government but they were given governments; military governors were giving out local governments. This administration does not look at the issue of restructuring Nigeria with a view to containing the eruptions in various parts of the country.
"The people of the South East feel they are still being punished because of the war. We want a country that is united and peaceful.
All the economic efforts you are making will be useless without unity and love amongst us," he said.
In his speech Governor Ifeanyi Ugwuanyi of Enugu State expressed hope that the town hall meeting would open the doors for more development in Enugu State and the zone.
He urged the Federal Government to revisit the Ada Rice Farm Irrigation project to make it fully functional to boost economic activities and provide employment.
He called for the release of more funds to the states to enable them discharge their over whelming and increasing pressure to provide critical infrastructure that would stimulate economic growth and development and requested federal government intervention to ensure payment of billions of outstanding debts owed the state by federal agencies and establishments.
Earlier, Information Minister and convener of the town hall Alhaji Lai Mohammed noted that the Enugu was the fifth in a series, which started in Lagos in April, to bridge the gap between the government and the people.
"This government has no intent to marginalise any part of the country either in appointments or execution of projects; no part of the country will be short- changed. The president is that of all Nigerians irrespective of religion, ethnicity or political party."
He noted that Nigeria was passing through a critical period in history; "we are faced with two choices; whether to continue along the old path that had brought us to where we are today; or to chart a new course.
We have chosen the latter simple because one cannot continue to do things the same way and expect a different result.