Naira drops to 382 as dollar scarcity continues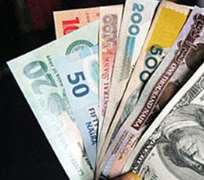 The naira dropped to 382 against the United States dollar at the parallel market on Monday, down from the 380 it closed on Friday.
The local currency had hovered between 375 and 380 against the greenback last week.
The naira has been under a persistent pressure as dollar scarcity continues to weigh on the local currency at both the parallel and interbank forex markets.
Economic and financial experts said inadequate forex liquidity at the interbank market was taking a toll on the parallel market.
Analysts had predicted that the naira would weaken further against the dollar this week owing to limited dollar supply as foreign portfolio investors continued to stay on the sidelines until the Nigerian economy showed signs of recovering from the impact of currency controls.
The naira had hit an all-time low of 334.50 per dollar on Wednesday, a day after the Central Bank of Nigeria hiked interest rates to try to lure foreign investors back into local assets.
On Monday, the naira closed at 316.37 against the dollar at the interbank market. On Friday, it closed at 321.16 to the dollar, compared to 292.40 the previous Friday.
According to financial analysts and experts, the naira may weaken further, especially at the interbank market, if the CBN fails to intervene at the market this week.
The CBN had asked for quotes of $5m each from currency traders on Wednesday as it sold the US currency to boost dollar liquidity and support the naira, traders said on Monday.
The naira opened at 315 to the dollar and weakened to 324 before the central bank intervened to help the currency close at 316.37. A total of $27.05m was traded on Monday, Thomson Reuters data showed. - Punch.