Adamawa LG Polls: A Rising Tension In Michika As Angry Youths Suspects Election Irregularities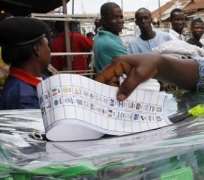 The Local Government Elections scheduled to hold yesterday in all the 21 LGA of Adamawa state has began to generate complains from other stake holders and concern citizens.
In Michika LGA where since yesterday they have been waiting for Election materials to conduct the election, but report coming from that area this afternoon is that tension is gradually mounting following the inability of the Adamawa State Independent Election Commission(AISEC) to conduct elections 24 hour after the exercise commenced.
Reports reaching us confirm that some electoral materials are allegedly missing and as such other material are lodged at the police station with defiant youth laying siege at the station and other blocking major roads within the town for complete materials to be disbursed.
Electoral officers mandated to carry out the exercise are reportedly not available.
A PDP stakeholder in Adamawa and an indigene of Michika,Dr Francis Zira lament how ADSIEC did not do the needful to avoid any irregularities that could hamper the fragile peace the people are trying to sustain.
"We suspect something bad is fishing in our LGA,why should ADSIEC send the election materials very late? And all the APC agents are no where to be found in other to distribute the materials, no matter their plan no body can impose a candidate to us, our people must vote for their choice ". He said
"So many Youths slept at the police headquarter agitating for a complete election materials meant for Michika to be released in other to conduct a free and fair elections".He added
An elder statesman man who is a crusader of good governance,Mr Iliya Kwache ,appreciate the Youths of Michika for behaving themselves orderly, but stood their ground for the right thing to be done.
According to him the ADSIEC in has already slated 6th of August,2016 for another election to hold as there has not been any election that took place in the area because of poor arrangements by electoral agency.
"I thank God by the way and manner our Youths stood their ground for the right thing to be done,i want to use this medium to call on all youths in the state to emulate the good behavior of Michika Youths toward this elections ".
Conforming the reschedule election, the Chairman of Adamawa state's Independent electoral commission (ADSIEC), Isa Shetima said Numan Lamurde and Michika because of "insecurity reasons" their has been rescheduled to Saturday 6th August, 2016.