Immigration promotes 2,424 junior officials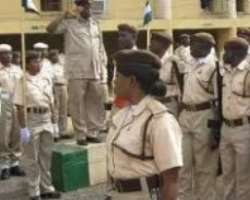 Not fewer that 2,424 junior workers of the Nigerian Immigration Service have been prompted to their next ranks,the Comptroller – General of Immigration, Muhammad Babandede, has announced.
Bamidele made the announcement at the CGI monthly parade when he addressed Officers and men of NIS at Abuja on Wednesday 27th July, 2016.
Those who are to enjoy the promotion  are in the Inspectorate Cadre of the Service.
The CGI urged the promoted staff to see their elevation "as a call to give more to the society in terms of improved service delivery and to Government, dedication to duty and loyalty".
He said that the promotion examination result for senior officers of the service would soon be released by the Civil Defence, Fire Service, Immigration and Prisons Board. Presently, NIS has Three (3) Deputy Comptrollers – General out of the statutory Seven (7). Of the 3, two are on Pre-retirement leave, leaving the Service with only one DCG in  office.
According to the NIS boss, the service will to introduce online promotion examination where the result would be known real-time to guarantee transparency.
He added that, "seniority in service and other considerations such as Federal character will still be part of the requirements, but the online examination would give everyone the satisfaction that results have not been tampered with.
The Immigration boss also informed the parade that the Committee he set up on the Service Posting Policy has submitted it's report. "The policy is to address the issues of duration at a particular post, professionalism due to educational qualification, gender/serving mothers, past records, experience and proficiency on the job. It is designed to also drastically reduce external influence on staff posting matters"