I am committed to democracy and development, Wike tells editors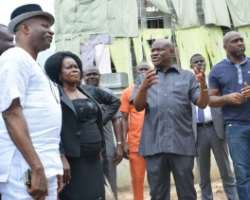 c
Rivers State Governor, Nyesom Wike, has declared that his administraton has surmounted politocal and
economic challenges to deliver quality pro-people projects and improve the living standard of the
people of the state, adding that his commitment to development and democracy is irrevocable.
The governor stressed that the state would attain greater mileage in terms of development if it is not
made to face endless rerun elections and politically-induced security challenges.
He spoke on Saturday during a breakfast meeting with the National Executive Council of the Nigerian
Guild of Editors led by its President , Mrs Funke Egbemode.
The governor also led the executives of the Nigerian Guild of Editors on a project inspection around
Port Harcourt and Obio/Akpor Local Government Areas.
Projects visited include: NBA Law Centre, Woji -Akpajo road with bridge, Government Girls Secondary
School, Rumuokwuta, Remodeling of Port Harcourt Civic Centre and the Port Harcourt Pleasure Park.
Governor Wike maintained that he remained focused because of his commitment to the development
of Rivers State and his love for the state.
The governor stated that he combined infrastructural development and workers welfare within his
first year in office, because that was the way to revive the state's economy which was battered by the
immediate past administration.
He said despite the propaganda being sponsored by the opposition, Rivers State is safe for investments
and development.
He said : "It is important for everyone to know that Rivers State is safe and is witnessing massive
development. In the next two months, we are hosting many national events. We have already hosted
several national events in the last two months.
"For me as a governor, this is a privilege to serve my people and I will give it my best shot. I am ready to
lay down my life for the state. My commitment to the development of Rivers State is total. I will
forever defend it."
The governor said those planning to rig elections in the state will not succeed because the people are
ever vigilant to stop them.
He said : "Stealing the mandate of the people is a serious crime and it is worse than armed robbery. In
this case, those involved plot to use arms to steal the mandate of Rivers people. That will never
succeed. They came to rig the March 19 rerun elections and the people resisted."
The governor charged the media to work towards informing the world on the true situaon in Rivers
State, poinng out that majority of the information in the public domain are concocted by the oppsition.
Photo above (L-R): Publicity Secretary of Nigerian Guild of Editors, Mr Ken Ugbechie, President of Nigerian Guild of Editors, Funke Egbemode, Rivers State Governor, Nyesom Ezenwo Wike and Architect Akor Adokpoyi  inspecting the NBA Law Centre in Port Harcourt on Saturday.