Corruption: Time To give OBJ A hearing!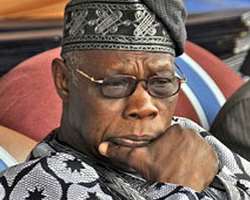 If he didn't believe in the saying, embattled House speaker, Yakubu Dogara, must have realized by now that heaven indeed knows no fury like a woman scorned! Otherwise, he would have been circumspect in handling his former sidekick and now implacable foe, Abdulmumuni Jibrin. A lot of water must have passed under the bridge since both men conspired in June, last year to defy the APC party.
Nigerians must see the hand of God in the scandals, especially the recent ones, being unearthed at the National Assembly. Speaker Dogara must have reasoned he was doing nothing untoward when, in pandering to certain interests in the House, he divorced Honourable Jibrin from the chairmanship of the House Committee on Appropriation and Finance. Jibrin's execution of the post is an indication of how close he was to the Dogara.
Those who wish to step into his shoes are already putting up lame defences on behalf of a speaker who already has his back to the wall. No! Honourable Jibrin is not just running his mouth because like any deep throat around, this guy knows a lot.
The way Jibrin abused and insulted APC leaders and other Nigerians who condemned the conspiracy at the National Assembly a year ago, one would think he was the candidate for the speaker of the House. If he had some guts in him, Honourable Dogara should have known that a man who fought another man's wrong-headed battle so tenaciously was capable of going a step or two more in his own battle. Barely one year after the conspiracy, Jibrin has shown that he could be raw if and when the need arises.
Greed! That is the five-letter word that is at the bottom of the dirty fight in the House! It is about all about looting and how to share it. This is like several fights at the two chambers of National Assembly that never has anything to do with the welfare of Nigerians. Budget padding? Well, it's good the police investigators have stepped in. Let Dogara prepare his defence instead of the treat of a law suit that failed to silence Jibrin. And, let no one give Nigerians the crap that this is an internal affair of the House as some namby-pamby senators lazily sought to explain away the forgery case involving the senate leadership.
Since the paddinggate broke, not a few Nigerians say they will tender public apology to senators if the impending police investigation into the budget padding scam in the lower chamber is concluded without some feathers being ruffled in the senate. This is hardly surprising because, until the Buhari/ Osinbajo came onboard, budget sessions were relished moments at both houses of the National Assembly. Then, budget sessions were like harvest seasons during which lawmakers engaged in a rat race to grab as much as possible. Just one budget session is all any crooked lawmaker needs to be super rich!
From money exchanging hands between larcenous heads of ministries, departments and agencies and crooked lawmakers to outright criminal insertions into budgets, many legislators have come to regard criminality as part of their legislative duties. But, even though members succeeded in turning the National Assembly into a sinkhole, at no point in time did Nigerians relent in their criticism and condemnation of the stench emanating there-from. If anything, the criticisms and condemnations merely served to enamour those members who had dubious ideas of lawmaking. The parliament dropped to a new low in June, last year when tainted men hijacked its leadership.
Those who constantly jumped on the back of former president, Olusegun Obasanjo, did so because of the belief that he is complicit in the corruption scandals the National Assembly has come to be noted for. Did President Obasanjo plot to elongate his tenure? Did his government at any point in time give N50 Million each as 'dash' to some members of the National Assembly, either to compromise them to advance his tenure elongation plan or any plan for that matter?
By the way, how less opaque was the Obasanjo government's privatization programme? What was the basis for the altercation between President Obasanjo and his deputy, Atiku Abubakar? And, why on earth, after heated public exchange with his deputy, did President Obasanjo suddenly realize the need to 'drop' his case against Vice President Atiku? All along, these had been some of the questions Nigerians expected President Obasanjo to answer, just like his successor, late President Umaru Musa Yar'adua, acceded to his flawed victory, if he is to be taken serious and if his criticisms are to make the grade.
So far, there is little to show that Nigerians are prepared to warm up to the former president, either now or, in the immediate future. What, then, since President Obasanjo has refused to clam up by consistently lashing out at corruption? Do we continue to ignore him and be disdainful of his criticisms even when we know he is not entirely off mark? Is it normal for Nigerians to celebrate those President Obasanjo calls 'rogues and thieves' but who relish in profiling and dismissing the former president as a spent force? Is it normal for Nigerians to judge President Obasanjo by standards set by those he seeks to get behind bars?
But, wait for this! what is the leadership of the National Assembly doing about this regular blistering assault from the former president? Should they allow the assault to ride and merely dismiss it as unworthy of being honoured with a response? What, on earth, is holding back Senator Saraki and Honourable Dogara from summoning President Obasanjo before a joint sitting of the National Assembly to substantiate his claims? Or, by stomaching the assault on their persons, do the lawmakers know the former president knows more than they ever thought any Nigerian knew?
May be the former president has damaging facts to warrant his reference to lawmakers as criminals and armed robbers! May be, not! Whatever the case, the lawmakers should feel adequately challenged to the point of standing up to President Obasanjo. Yes! Many lawmakers may possess the moral wherewithal to challenge their depiction by the former president but, at the end of the day, the onus lies with the Assembly's leadership to, in a manner of speaking, bell the cat! Now, who is that going to be? Is it Senator Bukola Saraki with his carryall baggage? Or, Honourable Yakubu Dogara who is proving to be adept at the game of deception?
Yes! President Obasanjo's government was probably less than thorough in the anti-graft war. His government, through compromising lawmakers, probably contributed to creating the behemoth the National Assembly has come to be associated with. But, if for whatever reasons, he now agrees that corruption, especially in the National Assembly, has become a major drawback, the least Nigerians can do is to begin to listen to the voice of the former president and hold their leaders to account.
And, for reasons known to Nigerians, the National Assembly is the right place to begin.
Magaji lives in Abuja and can be reached at [email protected]
Disclaimer:

"The views/contents expressed in this article are the sole responsibility of the author(s) and do not necessarily reflect those of The Nigerian Voice. The Nigerian Voice will not be responsible or liable for any inaccurate or incorrect statements contained in this article."