I can't wait to be deflowered— Halima Abubakar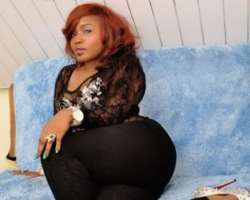 Controversial Nollywood actress, Halima Abubakar, has revealed that she is still a virgin but can't wait to have sex for the first time and begin to have kids.
The 31-year-old curvy actress who recently laid bare her mind on marriage, made the mouth-gaping revelation on her Instagram page, causing a myriad of mixed reactions and comments from her fans and followers.
'Can't wait to be deflowered and have kids. Please don't preach on this post, the world has heard enough quotes' she wrote. After receiving series of backlashes in the comment section of her page from her fans, she quickly deleted the post and replaced it. 'Can't wait to have kids', she later wrote. – Vanguard.