I'm not scared of growing old – Omosexy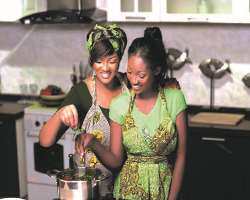 Nollywood actress, Omotola Jalade Ekeinde is a Diva in her own rights. An activist and a humanitarian all rolled into one, she is of the belief that grey hair does not signal old age. The 38 years old actress and mother of four speaks about her career and what makes her tick.
Recently, you celebrated your 20th wedding anniversary. How does that make you feel?
It's just been fun. I'm married to my friend and should I say, my destiny supporter. There's no relationship without its challenge. When people hear that we are celebrated twenty years, they think we must be really without stress or anything, but I just want to let people know that if you are determined to do it in life, if you are determined to make it, you will make it. You have troubles in life generally anyway; either with your parents, or with your siblings.
So it's just like that. It's a normal thing. Don't use any opportunity or any quarrel in a relationship with your spouse to justify the fact that everybody says marriage is hard. It's not any harder, I think, than any other relationship you've had in life, maybe with your business partners or with your siblings. I understand that there are some marriages that have more challenges than others. If there is abuse involved, I think you should find your way out quickly. But if there is no abuse, then there is nothing you cannot overcome. Given that, I have had a very wonderful time with my spouse. We've just been friends. That's what matters most.
Where was the 20th anniversary getaway?
Hawaii. But we have another wonderful thing about the anniversary coming up. You'll know about it in due course.
At this point, you've done and seen a lot of things. Do you have any official plans ahead?
If you know me very well, you will know I don't talk about future plans. That is because, by God's grace my life happens very quickly and sometimes, I can't even catch up with myself. So it doesn't make any sense to talk about future plans or anything. But I guess we all want to be healthy, we all want to be alive and well. I think that's the most important thing.
I can see grey hair. So is Omotola aging gracefully?
I'm not aging (laughs). It's probably make up.
But you are not growing younger?
No, I'm not. Neither are you.
But they say grey hair comes with age, so how are you handling that?
Well, I'm 38 years old so I'm not scared. But even if I was 51, that's not the point. I'm growing younger if you actually think about it. Even babies these days have grey hair. Anyways, that's not the point. The point is, in life, I think we should all embrace who we are. And I think when people are sufficient or feel sufficient in life, and you feel like you're achieving, you really wouldn't be afraid of age.
I think people are afraid to age when they actually look at where they are in life and feel like they've not achieved much. They feel like time is running by. I think that's actually the reason why people are afraid of aging if you really go into it. But if you are contented in life and know that all fingers are not equal and you are where you are meant to be, because you could actually be six feet below. That you're alive and well in itself is a reason to celebrate age. I don't think that's a reason why not.
What are your thoughts on the economic situation in Nigeria today?
You know I'm an activist so I won't go into all that. But I just want to say that I believe that the president, just the president, has focus. And I think, up until when he, beyond reasonable doubts, convinces us that he is actually not for our interest, I think for now, I choose to believe him.
Based on his past, I want to believe he is a man of honour, I want to believe that he knows what he wants to achieve. And I wish everyone will just support him for now, until he shows us truly that there's an ulterior motive. But for now, I think we should believe him and we should trust him.
What is your relationship with Ghandour Cosmetics like?
It's very nice. They are very nice people; very wonderful employers. It's a very cool relationship.
For how long have you been with them?
I've been with them for three years. And that's quite a long time because you hardly see endorsements. That's how comfortable I am being with them.
People were not aware that any such endorsement exists
That's true because they have been in Ghana. This is actually their launch in Nigeria. So the first two years were actually mainly in Ghana. This is the first time they are introducing this in Nigeria.
Do you make use of the product?
I do and I love the hairspray. I think that is one product everybody should try. That is my number one. And of course the relaxer.
How lucrative would you say the deal is?
For me to be with them for three years, I must be happy right? So I think their immediate plans will be to roll out and to let everyone be aware of the fact that they are now here. They produce their stuff by themselves, so I hope that they would have a factory here in Nigeria like they have in Ghana. That's something I'm really looking forward to. That way, they can create more jobs for the youths and communities in Nigeria. So I think that should be their immediate plans.
What is your definition of beauty and how does it reflect on a woman?
I think beauty, first and foremost, is in the confidence. If you are a confident woman and you understand your self-worth, I think you are beautiful. That is why sometimes you see some girls that you think, visually, in your own definition, are not aesthetically beautiful.
But any time they walk into a room, everybody turns. And you wonder why everybody is looking at that girl. She's not even that fine. If you get it together, she is a confident woman. So beauty for a woman, even for men but especially for women, is knowing your self-worth, understanding yourself, understanding your body and working with what you have. Most women don't have everything. Even I don't have everything but there are things that you have, so work with what you have.
Where does Ghandour come in?
Ghandour obviously is talking about hair and we know that hair is the crown of a woman. And I think that for a woman to be beautiful, your hair should come out well. Your face is the first thing someone sees when they see you, so your face is your introduction. And the hair is the crown of the head. So you can imagine how important Ghandour's job is. - The Nation.