Between Kings and Queens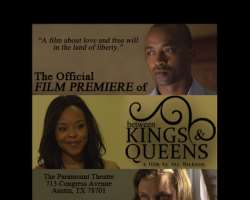 Between Kings and Queens is the story of a prince from Africa, who seeks to escape his royal duties by fleeing to America. Torn between new love and free will, his immigrant experience in the land of liberty quickly unravels as he finds himself running for his life.
This is a film guaranteed to appeal to the masses. A love story set against the real backdrop of the War on Drugs and controversial immigration policies, this film is set in the moment. Men and women in the prized 18-49 year old demographic will be able to relate to our characters' struggles. They will find themselves wrapped up in the drama of the storytelling.
The film is the US directorial debut of Joy Dickson. Inspired by Dickson's own personal experiences, the film explores varied themes such as identity, culture, and moral codes, as well as race relations between African-Americans and Africans.
The film was guided by Director of Photography (Michael Morlan) and features breakthrough performances by Dajuan Johnson, Nakia Burrise, and Nigerian superstar Jim Iyke.
CAST MEMBERS:
KALU – Dajuan Johnson
Dajuan Johnson's previous credits include MTV Productions' Pedro, a film based on the life of MTV reality star Pedro Zamora, who died of AIDS in 1994. Pedro was written by Dustin Lance Black, who recently won an Oscar for Milk. His numerous television appearances include roles on "Private Practice," "Scrubs," and "CSI: NY". His national television appearances include ads for GM, Southwest Airlines, and McDonald's.
Dajuan's roles are on the rise both in the United States and abroad. He was just cast in a recurring role on Fox's "24" and finished shooting for a Japanese cell phone commercial with Brad Pitt. Dajuan is in production for The Wrath of Cain, starring Ving Rhames and Robert Patrick.
*** from Dajuan's blog:
Wrapped Between Kings and Queens in Austin last week. Had a great shoot and met some great people, but I'm happy to be home. What a great challenge as an actor to get to work on a film where you have to have an accent. One of the biggest lessons I learned on this shoot was, "LET GO & MAKE IT WORK." It's rather funny how we do ALL the prep work we need before even getting to the game. But, once we get there we second guess ALL of it. Guess that's why they call them nerves, eh?
SUSAN – Nakia Burrise
Best known for her role as Tanya Sloan on the television series "Mighty Morphin Power Rangers," Nakia's previous credits include appearances on the hit series "Samantha Who" and "Boston Legal."
After graduating from Edison High School in Stockton, California, Nakia auditioned for UCLA's prestigious theater department and became the only African American female freshman accepted in the department that year. By the time she was a junior at UCLA, her professional career had begun.
After Power Rangers, Nakia took a break from acting full time to begin a family. After the birth of her second child she began pursuing acting again but was diagnosed with a lung disease that again took her away from her passion. In 2008, Nakia was blessed with a clean bill of health (as her illness was now in remission) and she once again pursued her dream of acting.
***Nakia's will to overcome life's obstacles are incessant and her desires do not begin and end with performing. She is also committed to making a difference in the community and in the children's lives. In 2006, Nakia founded a non-profit corporation, A Day in the Life – whose mission is to reach inner city children by giving them the opportunity to explore careers, life options and community possibilities through field trips, presentations and field work; opportunities not readily accessible to many inner city youths.
NANNA – Jim Iyke
Jim Iyke is one of Nigeria's most popular actors, with a jaw-dropping 100 movies under his belt in the past five years alone. Renowned for more than acting skills, he is a martial arts specialist and is celebrated for pioneering a lot of firsts in the home video industry.
Jim Iyke Esomugha was born in Gabon Libreville and hails from Enugu Agidi village of Anambra state Eastern Nigeria. Jim's circumstances of birth can only be likened to other great personalities. As a destiny child, Jim was placed between 7 other sisters, making him the only son amongst his siblings.
Jim Iyke has recently starred in two international films, Ebony (with internationally renowned co-star Judi Shekoni) and Good Evening (with equally renowned co-star Tanjereen Martin). As a businessman, Jim has considerable interest in real estate and resource management. He is an alumnus of the University of Jos in Nigeria, with a degree in philosophy.
***
Despite being cast so often as a smooth talking playboy, in reality Jim is a focused and disciplined young man who expresses his passion for children, their welfare and the greater good of society through his foundation – the Jim Iyke Foundation for Children with Special Disabilities.
JOY DICKSON – DIRECTOR
Joy Dickson is a native of West Africa who dreamed of becoming a filmmaker as a teenager. She directed many plays and the films African Lilly and Mission to Africa in Nigeria before directing Between Kings and Queens.
Passionate and professional, Joy has worked tirelessly for years – during which she experienced the joy of childbirth of her two children – to bring this personal story to fruition. Between Kings and Queens is her directorial debut in the United States.
ASHLEA HARTZ – PRODUCER
Ashlea Hartz has a wealth of experience as a producer. She started at HBO in 2003, then worked as an Associate Producer for UVPH. Ashlea has also worked with AT&T, MTV Networks, and Bjork. Since 2007, she has produced many independent projects with up and coming directors from New York and Los Angeles.
MICHAEL MORLAN –DIRECTOR OF PHOTOGRAPHY:
Since 2005, Michael Morlan has worked on nine feature films, including four as director of photography and three as gaffer/lighting director. His credits include numerous commercials, music videos, short form narratives, and the 2008 Oscar nominated documentary "Operation Homecoming: Writing the Wartime Experience."
Between Kings and Queens Trailer: