UN suspends humanitarian support as Boko Haram attacks convoy in Bama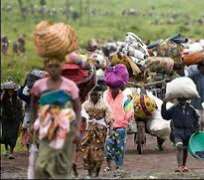 A team of United Nations, UN, officials were on Thursday attacked by suspected Boko Haram terrorists, prompting the UN body to suspend humanitarian support for Nigeria..
The officials' convoy, escorted by heavily armed soldiers, came under heavy attack as they made their way to Bama.
UNICEF said in a statement that unknown assailants attacked the convoy on Thursday as it returned to Maiduguri from delivering aid in Bama, injuring a UNICEF employee and an International Organization for Migration contractor.
"The United Nations has temporarily suspended humanitarian assistance missions pending review of the security situation," it said.
The officials, working for the United Nations Children's Fund, UNICEF, were ambushed at an area close to Bama, under Konduga local government area of Borno State, less than 30 kilometres away from Maiduguri, the state capital.
The UN team, it was learnt, and other donor agencies were going to an Internally Displaced Persons camp in Bama on an intervention mission
The delegation was moving food items and drugs to the IDPs.
"Boko Haram fighters numbering over 50, armed with anti aircraft gun (machine gun mounted on open truck), suddenly emerged just after Kawuri village and rained bullets on the UN motorcade," said the source.
"One of the officials confided in me that the soldiers saved the day. They fought with everything they had until Boko Haram retreated into the bush. This would have been a great embarrassment to Nigeria.
"Four of the soldiers and and driver of one of the UN vehicle was hit. The person beside the driver took control of the vehicle. If not, it would have been disastrous for the occupants.
"Some officials sustained minor injuries, no lives lost. All survivors are presently at the University of Maiduguri Teaching Hospital", the source stated.
When contacted, Army spokesman, Col Sani Usman, told our correspondent on phone that he will get back.
Also, Biodun Banire, Public Information Assistant, UN Office for the Coordination of Humanitarian Affairs, told DAILY POST that he had just heard the news.
"I just got the information, there was an attack. Our officials and soldiers were attacked but no casualty.
"All responding to treatment. I can't say more than this. I will provide an update tomorrow morning".
UNICEF also confirmed that unknown assailants attacked a humanitarian convoy that included staff from UNICEF, UNFPA and IOM.
"The convoy was traveling from Bama to Maiduguri in Borno State, Nigeria, returning from delivering desperately needed humanitarian assistance.
"UNICEF can confirm that a UNICEF employee and an IOM contractor were injured in the attack and are being treated at a local hospital. All other UNICEF, IOM and UNFPA staff are safe.
"The convoy was in a remote area of northeastern Nigeria, where protracted conflict has caused extreme suffering and has triggered a severe malnutrition crisis.
"This was not only an attack on humanitarian workers. It is an attack on the people who most need the assistance and aid that these workers were bringing.
"The United Nations has temporarily suspended humanitarian assistance missions pending review of the security situation," UNICEF said in a statement Thursday evening by Doune Porter, Chief of Communication.