Airtel And First Atlantic Bank Partner To Offer Customers Option Of Linking Their Accounts To Their Airtel Money Wallets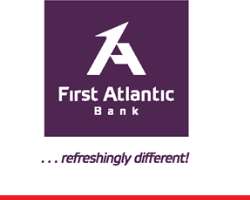 Airtel Ghana and First Atlantic Bank (FAB) have announced a partnership to provide effortless convenience to their customers. The partnership, which further strengthens the existing relationship between the two organisations, allows First Atlantic Bank customers who are on Airtel, the convenience of linking their bank accounts to their Airtel Mobile Money wallets – for transactions, funds transfer and purchases.
Customers can check their balances, transfer funds from their Airtel Money wallets to their bank accounts and vice versa as well as make purchases including airtime, data bundles and online purchases etc. using Airtel Money.
Speaking to the partnership, Edmund Barwuah, Head of Corporate Sales, Airtel Money said, "We are particularly happy to be partnering with First Atlantic Bank to bring a world of convenience to our joint customers. As the leading and most innovative mobile money platform, Airtel Money continues to enter into strategic partnerships to enrich and simplify the lives of our cherished customers.
This full partner bank integration offers the full suite of Airtel Money services to First Atlantic Bank customers on Airtel. They can move funds, make transactions, check mini statements and make enquiries directly from their phones. Together with FAB, we are further widening the channels through which customers can transact in a simple, fast and secured environment.
Beyond these clear benefits to customers, this arrangement also expands the network of locations that Airtel Money agents and merchants can acquire E-value or exchange same for cash – further increasing float availability in the field for both subscribers and agents".
Commenting about the partnership, Sebastian Yalley, the Group Head of Electronic Business at First Atlantic Bank said, "we are very excited to have this partnership come through at this time in the industry where we have a number of our population unbanked. This partnership affords our customers the opportunity to transact banking business at their own convenience anywhere in Ghana. One key addition is that Airtel customers will now have access to our bouquet of banking products that best suit their needs. Together with Airtel we believe this partnership is in the right direction to appeal to the unbanked Ghanaian population. We will therefore entreat the general public to go ahead and conveniently transfer or deposit money to and from their Airtel wallets using our simple, fast and secured platform."
The partnership also seeks to extend First Atlantic Bank coverage through the over 20,000 Airtel Money agent points nationwide. Mutual customers of the Bank and Airtel Money can easily deposit and withdrawal cash from their bank accounts at the nearest Airtel Money agent, by simply using the wallet to account transfer service available on the Airtel Money Menu.
Last year, Airtel Premier and First Atlantic Bank partnered to provide unparalleled telecommunications and banking services to enhance and transform the social and professional lives of their high value customers. The arrangement provides synergy between Airtel Premier and Atlantic Purple Plus customers to enjoy a world of convenience through the provision of a bouquet of exclusive products and services, rewards as well as empowering them with access to integrated and sophisticated telecom and banking products and services.
Airtel Money is Ghana's most innovative mobile money platform.
About First Atlantic Bank:
First Atlantic Bank is a full-scale commercial bank with over 20 years' experience in the Ghanaian banking industry. Originally founded as a merchant bank currently offer a full range of distinctive services in personal and business banking supported with a modern and robust eBanking platform.
About Bharti Airtel:
Bharti Airtel Limited is a leading global telecommunications company with operations in 19 countries across Asia and Africa. Headquartered in New Delhi, India, the company ranks amongst the top 3 mobile service providers globally in terms of subscribers. In India, the company's product offerings include 2G, 3G and 4G wireless services, mobile commerce, fixed line services, high speed DSL broadband, IPTV, DTH, enterprise services including national & international long distance services to carriers. In the rest of the geographies, it offers 2G, 3G and 4G wireless services and mobile commerce. Bharti Airtel had over 361 million customers across its operations at the end of May 2016. To know more please visit, www.airtel.com
About Airtel in Africa
Airtel is driven by the vision of providing affordable and innovative mobile services to all. Airtel has 17 operations in Africa: Burkina Faso, Chad, Democratic Republic of the Congo, and Republic of the Congo, Gabon, Ghana, Kenya, Malawi, Madagascar, Niger, Nigeria, Rwanda, Seychelles, Sierra Leone, Tanzania, Uganda and Zambia. Airtel International is a Bharti Airtel company. For more information, please visit www.airtel.com , or 'like' the Airtel Ghana Facebook page via www.facebook.com/airtelgh or follow us on Twitter via the handle @airtelghana.