Reach For Change Ghana To Host 4th Startup Dialogues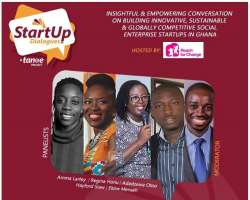 Growing as the most educative & empowering platform for Startup Entrepreneurs in Ghana; the Startup Dialogues will this month focus on Social Entrepreneurship, a fast growing concept in the vibrant startup ecosystem in Ghana.
Themed; Insightful & Empowering Conversation on Building Innovative, Sustainable & Globally Competitive Social Enterprise Startups in Ghana, the July Edition of the Startup Dialogues will be hosted by Reach for Change Ghana, an organization that supports social entrepreneurs to turn their dreams into sustainable and scalable ventures with the power to alter societies, creating better lives for children. The 4th Startup Dialogues will be held on Thursday 28th July 2016 at 5pm at the Reach for Change Office, North Kaneshie near Qodesh in Accra, Ghana.
Panelists drawn from the leadership of various successful Social Enterprises in Ghana include: Amma Lartey, (Africa Regional Director - Reach for Change); Regina Honu, (Founder & CEO, Soronko Solutions, Tech Needs Girls & Ghana Startup Awards Social Entrepreneur of the Year); Adadzewa Otoo (Executive Director, Social Entrepreneurs Ghana), Hayford Siaw (Founder & CEO, Street Library Ghana Project) with Ekow Mensah - Founder & CEO, The African Network of Entrepreneurs (TANOE) as the Moderator.
Interested Participants can register online through: https://egotickets.com/events/4th-startup-dialogues-hosted-by-reach-for-change to confirm their participation.
The Startup Dialogues is an initiative aimed at encouraging insightful, engaging and empowering conversation amongst startup support stakeholders, policy makers, startups and successful entrepreneurs. It is designed to provide the relevant and adequate information, guidance and resources needed by startup entrepreneurs to be able to build innovative, sustainable and globally competitive businesses.
Previous Editions have been held at Ispace Foundation & TANOE Hub in Accra and Kumasi Hive in Kumasi.
The Startup Dialogues is an initiative of The Startup Network; a project by The African Network of Entrepreneurs (TANOE) and supported by Joy Business, City Investment Company Limited, Avance Media, Social Entrepreneurs Ghana and IConceptsPR is held monthly and hosted by different Startup Ecosystem Stakeholder each month with enlightened and engaging panelists.
For more information contact The Startup Network on [email protected], 0261704882 and 0242307379 or visit www.thestartupnetwork.org .