Alleged murder: Court issues arrest warrant against Ekiti APC chairman, others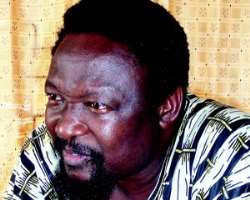 A High Court in Ijero Ekiti, Ekiti State has issued arrest warrant
against the Chairman of the All Progressives Congress (APC), Mr Jide
Awe, and three other, namely Faboro John Ojo, Aniramu Basiru and
Falayi Busuyi have been declared wanted for their alleged involvement
in the murder of two persons; Mr Ayo Jeje and Mrs Juliana Adewumi. in
Erinjiyan-Ekiti, Ekiti State, on March 30, 2013.The APC chairman and five others are facing trial in Charge No: HIJ/1c/2015.
Justice E. B. Omotoso of the Ijero-Ekiti High Court, who granted the
order on July 25, 2016, said the Jide Awe and the three other accused
persons must be brought to court by the police on October 5, 2015.
The warrant of arrest dated July 27, 2016, was issued based on the
prayer of Counsel to the Ekiti State Government, Yakubu Dauda, who
asked the court to invoke Section 94 of the Ekiti State Administration
of Criminal Justice Law of Ekiti State to compel the appearances of
the accused person before the court.
"Consequently, I hereby invoke the provisions of Section 94 of the
Ekiti State Administration of Criminal Justice Law of Ekiti State by
ordering that Bench Warrants be issued against the 1st, 2nd, 3rd, and
4th defendants to compel their appearances before this court at the
next day of adjournment and subsequently to stand for their trial.
…Consequently, this matter is hereby adjourned till 5th of October,
2016 for hearing," the judge ruled.
The State Attorney-General and Commissioner for Justice, Mr Owoseni
Ajayi said "the court order will be served on the police with
immediate effect, hoping that it will be complied with strictly."
It should be recalled that the Ekiti State Attorney-General and
Commissioner for Justice, Mr Owoseni Ajayi, in a letter to the IGP
dated July 8, 2016 and copied to the Attorney General of the
Federation, National Human Rights Commission and the Ekiti State
Commissioner of Police had decried the refusal of the police to arrest
the accused persons despite several requests.
"The Ekiti State has requested the Nigeria Police, Ekiti State Command
to effect the arrests of these culprits but instead of effecting the
arrests, the Police has refused and/or neglected to effect the arrests
on the ground that such arrests should not be made except with the
approval of the Police Force Headquarters, Abuja," the Attorney
General said.