Naria falls to record low at N335 to the dollar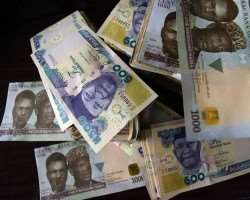 Nigeria naira has plummeted to an all-time low of 334.50 against the dollar on the inter-bank market on Wednesday
The Central Bank of Nigeria had a day earlier announced a hike in the benchmark interest rate from 12 per cent to 14 per cent, a move seen by analysts as tailored towards braking the downward slide of the Nigerian currency by inducing a return of  foreign investors back into local assets.
The naira fell 5.8 percent on Wednesday from its opening rate, and $10 million was traded at the new record low.
Traders said investors were pushing the currency lower to test the limit of how far it can fall, given a spread of almost 12 percent between the official and black market naira rates.
"If we have more people trying to buy the naira then it should strengthen. I think we will keep seeing the trickles … I don't think we will see large inflows until the fundamentals of the economy improves," one trader was quoted to have said in a report.
Our correspondent learnt that despite the slump of the Nigerian currency, speculators still play deep in the market; making policy interventions difficult to have immediate effect..