A Bill To Amend Adamawa State LG System Administration Has Been Signed Into Law By Gov. Bindow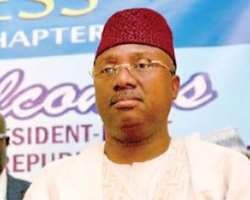 The Executive Governor of Adamawa State, Senator Mohammadu Umaru Jibrilla Bindow has today (Wednesday) assented a Law to reduce the tenure allegation of Local Government Council from two and half years to two years.
The commissioner of Information and Strategic planning, Comrade Ahmad Sajoh in a press release said: "The bill is now to be known as Adamawa state law No. 5 of 2016 amends Adamawa state Local Government System Administration law No. 4 of 2000 so as to reduce the tenure of Local Government council". It reads
The law which got the Governor's assent and informing the general public of the latest developments in the state.
The bill which was sponsored by a member representing Yola North, Hon. Alhaji Suleiman Alkali and the first to be passed into law after the reading of so many bills awaiting to be past into law.
The bill passed third reading yesterday and was presented by the House Committee Chairman on Local Government and Chieftaincy Affairs, Alhaji Muhammadu Hayatu , who said the bill was in order as most states were operating two year tenure
In her contribution before the passage of the bill, Mrs Sodom Daniel urged the house on the need to also review the over deductions of councils monthly allocation to enable the councils perform within two years.
The Speaker of the house, Alhaji Kabiru Mijinyawa, who presided over the plenary directed the Clerk of the house to send a clean copy of the bill to the Governor for his accent.