BEYOND THE MORNING EXERCISE AT OKPARA SQUARE, ENUGU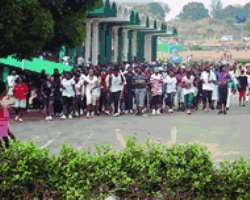 Okpara Square, Enugu is the official venue for government functions as well as social and cultural activities. Occupying a very large expanse of land close to the Enugu Government House the square which was named after former Premier of Eastern Region Dr. Michael Okpara has been given added responsibility over the years. A visitor to Enugu would definitely be loss as to what might be happening at this square between 6:am and 9:am everyday.
If not for the timing, the number of cars lined up in and around the square will definitely tempt one into believing that it must be Independence Day. However, a close look will provide the correct answers as men and women of different sizes, shapes, age and heights would be seen trying to put in some hours of exercises. For years Okpara Square has come to be identified with morning exercise to the level that participants started forming groups amongst themselves.
Mr. Chinedu Arinze, Chairman Coal City Keep Fit Club, one of such groups at the square, said; 'we have so many other groups; I know about the exclusive club, and there are one or two other groups existing here in Okpara Square, but its free for all. You come here and exercise; we all know the essence of exercise, to keep body and soul together. It also helps us to forget our sorrows; you know there are difficulties in the country today, so it also acts as a recreation for us. So the exercise is on a daily basis from 6:am to 9:am everyday.' There has however been a school of taught within the city that believes that beyond the morning exercise, there is more than meets the ordinary eye.
This school believes that the training ground has provided opportunity for University girls who abound in the town, to show off themselves and in return attract the attention of some of the men who may have genuinely come to keep fit. This school further postulates that male visitors to Enugu also avail themselves of the opportunity provided by the square to fish for female company. Chairman of Coal City Keep Fit Club, Mr. Arinze believes that such things cannot be ruled out in such a place. 'You cannot rule out such things in an environment like this.
This is like a school environment where male and female come to exercise just like they go to study in a school environment so you cannot rule out such things in this place. But there are lots of married women here who I know and I can vouch for that they don't have such things in mind; but there are also the single girls, and I cannot vouch for them; such things can happen. We are all human beings and we know you cannot rule out a thing like that in a place like this; so it happens; if anybody tells you, he or she has never noticed such a thing here, the person is not telling you the truth. Mr. Dan Nwomeh, Chief Press Secretary to Governor Sullivan Chime has been training at the square for about two years now.
And he told our reporter that the square has 'become a major centre for people to come and walk out, exercise and be fit.' On the other activities that people could be going on at the square he said; 'the girls can speak for themselves but I can tell you that even in the church there are people who come there to parade, to show off their new dresses, so you know the reason you are here; people have their reasons for coming here. It is a normal thing in human affairs; so it's nothing special and cannot be ruled out in a place like this; 'even though I can't speak for them. But you have to know that a lot of responsible people, government officials, men of God, Bank Managers, University Professors and of course people from all walks of life come here.'
Dr. Ifeanyi Nwobodo, politician, said he has been in the training party for about one year now, 'and its been quite fruitful for my personal body weight. People have different motives for coming here but personally I come here to do my exercises and to keep fit and after that I go home. Others might have their own motives for coming but it's not my business.' He however noted that such things cannot be ruled out; 'of-course you can't rule out anything; even in a campaign rally, you can't rue out anything.' Hon. Afam Nnaji, Special Adviser on Political Matters to the State Governor, said; 'What we doing is that we want to keep fit and to be alive; just keeping fit and you know some weak ones try to derive some strength seeing other people some aged and old people running; it acts as a sort of motivation for them.'
He said he has been part of the Okpara Square exercise for about six years; 'though I don't come everyday; sometimes I may sleep off and won't come.'
'I don't know what else people come here to do; personally I come here with my wife and son whenever he is on holidays so I don't know what else they come to do. I am sure there is a club here called exclusive, they do have meetings, and they go to burials, child dedications, and other activities as a club. If there is any other thing people come here to do apart from these things I am not aware.
It was however difficult getting the ladies to comment; but for Nkem, a student who has put in about one month of training at the popular Okpara Square, her mission to the square is just to shed some weight and also keep fit. She has her focus on her mission and would not know whether such a thing thrives at the square. Naomi who just finished her University education in Enugu would also not give her surname and has been part of the training team at the square.
Her objectives of joining the every morning shake-off is not different from the others but she says that 'babes' showing off or trying to be fixed up with one man or the other cannot totally be ruled out. Chioma Dike, after some persuasion said that Okpara Square has provided the opportunity for Enugu residents to come every morning and exercise. 'People come for exercise and to keep fit.'? She has put in about six months at the square and she insists that for her it's just to keep fit and she is achieving just that.
She agrees it exists but for her she is not in the game as she strictly adheres to her training programmes. 'I am not part of that, I come here with my friend just to keep fit and nothing else. Thanks.'
Chisom Akubuilo has also put in about six months and also agrees with her friend that there is another game that goes on outside the main training. But she would quickly add; 'I don't have time for that but I know it happens.'