I chained my son because I felt he was possessed: Cele Pastor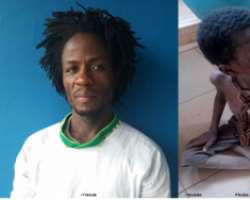 Celestial Church pastor Francis Taiwo, the father of nine-year-old Korede, who was chained and starved of food for about one month, has been arrested by the Ogun State Police Command.
Taiwo had fled shortly after the discovery of Korede in a church where he was tied to a log of wood.
The fugitive pastor was arrested on Sunday in the Ota area of Ogun State.
He told the police after his arrest that he decided to chain and starve his son of food for several weeks because he was always stealing.
Korede had earlier confirmed that he has stolen several times.
He said on one occasion, he stole a pot of soup from the house.
Taiwo said Korede was in the habit of stealing money.
Taiwo, who is from Benin Republic, is a pastor of the Key of Joy Parish of the Celestial Church of Christ in Ota, Ogun State.
He was quoted as having told the police: "I chained my son because I felt he is possessed and I'm not comfortable with his stealing habit."
Taiwo said he divorced Korode's mother in 2007 after she had given birth to four children for him.