Ghost Workers: Adamawa LG Staff Caution Gov. Bindow On Committee's Report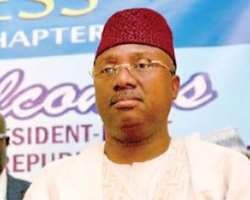 The Coalition of Local Government Civil Servants in Adamawa state have urged Governor Muhammadu Jibrilla to disregard Maurice Vunobolki Staff Verification Committee report that claimed to have discovered over 12,000 ghost workers.
The coalition in a statement signed by representatives from the 21 Local Government Areas of the state noted that the controversy surrounding the report after its presentation showed that about 80 per cent of the report was questionable.
They lauded the State House of Assembly for passing a resolution suspending the implementation of the committee's report.
The statement said that the first sign that there is problem with the committee's reports was the omitting of names of many workers in the e-payment salary voucher prepared using the report while many unidentified names also appeared.
It urged Governor Bindow on the need to probe this development as well as the report in Girei and Gombi local governments were there was alleged increase in fund in excess of between N700,000 to N2 million.
The statement queried the over 12,000 number of ghost workers identified by the committee pointing out that that the committee must have listed dead and retired workers including those killed and still missing in areas affected by insurgency.
It said that the if the committee's claim of identifying 12,000 ghost workers was true how comes they didn't save enough money to pay teachers and health workers in the local governments," the statement queried.
It lauded the state House of Assembly for passing a resolution suspending the implementation of the report and urged the ad-hoc committee constituted by the assembly under the chairmanship of the Deputy Speaker, Mr Sunday Perter to do the needy by ensuring that justice is done and that no worker was victimized.