It Is Time To Deploy Instruments Of Governance BBLLI Tells National Assembly; Charges EFFC To Investigate Corruption Allegation In The House Of Representatives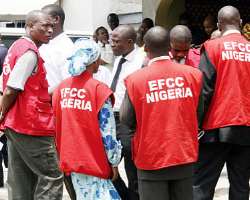 The Beyond Boundaries Legacy Leadership Initiative (BBLLI) has called on the Leadership of the National Assembly to without further delay, deploy the instruments of governance at its disposal towards advancing the cause of Nigerians.
Executive Director of the organization, Comrade Omaga Daniel made the call after a periodic review of the activities of the group which held over the weekend in Abuja.
Omaga, noted with dismay the fact that the National Assembly, the senate especially has been mired with series of leadership crises since its inauguration as a result of which the key business of legislation and governance appear to have been relegated to the background.
He disclosed that the impact of this crises is visible in key sectors of the Nigerian economy like power, education, security and even finance where there has been several incidences of production and distribution hiccups, policy summersault, re-emergence of violent activities of armed groups and uncoordinated engagement of Nigerians on the true state of the Nigerian economy which he regrets is eventually in recession.
With new allocation of offices to members of the various groups which exist in the red chambers Omaga noted that"Obviously, the entire fight has been over portfolios and allocation of offices and nothing else. It is permissible to take Nigerians for granted but now that calm appears to have returned to the upper house, I am strongly optimistic that the remainder of the time left will be dedicated to engaging in serious legislative business which will promote development and accelerate economic growth across board."
Similarly, a member of the organization, Ezeani Chukwunonso who heads its national research and documentation directorate challenged anti-graft agencies to live up to expectations especially as it relates to newest information which suggests that the 2016 budget was subjected to plenty incidences of "padding" and other forms of manipulations by principal officers of the House of Representatives.
Ezeani, who spoke at the same event described latest episodes of accusations between Speaker of the House of Representatives, Yakubu Dogara and former chairman of the House committee on appropriations, Jibril Abdulmumin as "an insight into the kind of deals which happen in government institutions".
In his words, Ezeani said "I have a similar background as Hon. Jibril in finance and I know as a matter of convention that non-disclosure of facts which may cause incidences of graft to happen is often taken as seriously as the act of graft itself."
He added that "Hon. Jibril had options he could have explored if indeed he had knack for professionalism and is an embodiment of integrity. He could have reported to the EFCC or DSS or better still make a formal complaint to institutions within the house such as its ethics and privileges committee.
A situation wherein He suggests he was constantly blackmailed and placed under pressure to allocate more funds than required to projects or areas where certain officials have interests after an initial moment of long silence is the highest indictment on his integrity. These characters should be investigated and possibly prosecuted."