The real reason why Babangida toppled my government in 1985: Buhari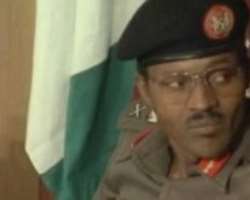 Thirty-wo years after the incumbent President Muhammadu Buhari was ousted from office as then military head of state in a putsch led by  Gen. Ibrahim Babangida (retired), the President has offered what was really behind his being pushed aside by the top echelon of the military at the time.
Babangida was the chief of army staff until he toppled Buhari who was the head of state and installed his team.
According to Buhari,   he was kicked out of office on August 27, 1985 by the then Chief of Army Staff, Maj. Gen. Ibrahim Babangida, because he was fighting corruption.
Buhari, who was the military head of state for 18 months, spoke an exclusive with The Interview Magazine.
The president  said the then Head of Military Intelligence, Aliyu Gusau, was allegedly involved in some sharp practices and he had recommended his sack from the military leadership, pointing out that Buhari  he insisted on Gusau's removal was because he did not want his anti-corruption war to appear one-sided.
But, that according to him, was to cost him his position as the President as Gusau, Babangida and other officers banded together to oust him.
Buhari while reacting to a December 2015 interview by Babangida in which he (Babangida) said the plan to remove Gusau had nothing to do with the 1985 coup, said that leaving Gasau unpunished would have sent negative signals about his fairness.
He explained, "I learnt that Gen. Ali Gusau, who was in charge of intelligence, took an import licence from the Ministry of Commerce, which was supplies, and gave it to Alhaji Mai Deribe. It was worth N100, 000, a lot of money then.
"When I discovered this, I confronted them and took the case to the army council. Gen. Malu was the Chief of Defence Staff; Gen. Babangida was the Chief of Army Staff; Tunde Idiagbon was the Chief of Staff, Defence Headquarters and I was the Head of State.
"I said if I didn't punish Gusau, it would create a problem for us. It is North versus South; majority versus minority; Muslim versus Christian. That was what it showed.
"So, I said Gen. Ali Gusau had to go. He was the Chief of Intelligence. That was why Babangida got some officers to remove me. Let him repeat his own story. Ali Gusau is still alive."
He also spoke about the 2016 budget fiasco, which resulted in avoidable delays in the passage of the budget and the ripple effects of such delays which are seen in the economy today.
For him, that development is a thing of the past and  would never happen again.
On the  critics who accuse him of not having an economic team, he has this to say:  "What do they mean by team? The Vice-President heads our Economic Management Team. You have a finance minister, a budget and planning minister; a minister of trade and industry and investment; a governor of the Central Bank of Nigeria, a national economic adviser and others and yet some people still ask for a team.
"We will listen to everybody but we are averse to economic teams whose private sector members frequently steer government policy to suit their own narrow interests rather than the overall national interest."