GET OBASANJO OFF YOUR BACK, OPPOSITION PARTIES TELL JONATHAN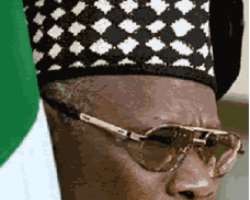 Obasanjo
Opposition parties have warned Dr. Goodluck Jonathan to get former President Olusegun Obasanjo off his back if he wants to be a popular Acting President and politician. The parties under the banner of the Conference of Nigerian Political Parties (CNPP) said the new found love between Dr. Jonathan and Chief Obasanjo shortly after he was made the Acting President, should be a source of worry to the former Vice-President.
CNPP's Secretary-General, Chief Willy Ezugwu, also told Daily Sun in Abuja that the Acting President should have known by now that no one entered into any relationship or alliance with Obasanjo and came out untainted.
Said he; 'Dr. Jonathan should watch well. He should not be carried away by his new-found godfather in Chief Obasanjo. He should check the list of victims of Obasanjo's political vendetta, the late Sunday Afolabi, former minister of Internal Affairs, Chief Audu Ogbe is there, Ken Nnamani, Adolphus Uwabara, even President Umaru Yar'Adua, his boss.'
The Conference Scribe asked the Acting President to either choose between serving the interest of Nigerians and that of Obasanjo because everything today in government points at Obasanjo's direction.
Ezugwu said the opposition parties were not moved by Obasanjo's claim that rotational presidency was not agreed to by the Peoples Democratic Party (PDP), saying, it was a ploy to get the Acting President into the presidential race.
He said 'Rotation or no rotation, that is their problem. But if I am to advise the Acting President, he should just concentrate on the jobs at hand. He has promised the international community credible elections in Nigeria, he should be seen to be working towards that by recalling the mutilated Justice Uwaiz Electoral Reform recommendations.
'All efforts should be geared towards restoring the lingering energy crisis, Nigerians want to see the corruption crusade being championed with renewed vigour, not a selective approach, the problem of decayed infrastructure and insecurity tackled, if he can do all these, he does not need an Obasanjo to play antics to bring him to power if he intends to run. Nigerians themselves will demand for him.
'But for him to rely on Obasanjo for his political survival meant he had laid a foundation for his own failure. By the time Obasanjo finishes with him, he won't be able to put the pieces of his career together. He has to watch it,' Ezugwu said.
He told the Acting President not to bring another Prof. Iwu to chair the Independent National Electoral Commission (INEC) saying, Nigerians have had enough of sham, in the name of elections.
The CNPP Secretary maintained that the present situation presents a golden opportunity for Dr. Jonathan to write his name in the book of history as one of the leaders who affected their society within a very short time. He added that most of the past leaders Nigerians hail today as having done much did not have a long time to perform, so Jonathan has no excuse not to perform.
Ezugwu stated that the claim by Chief Obasanjo in United States that Nigeria cannot hold undisputed elections was a ploy to lay a foundation for appointment of another puppet as INEC Chairman.
The challenge, he said, is for Dr. Jonathan to disprove this and ensure that a credible Nigerian with sufficient integrity is appointed and credible, free and fair election conducted, 'if the election is credible, free and fair and peoples' votes count, then it would not be disputed, this is what the Acting President should do.'