PDP's Isaac Alfa wins Kogi East Senatorial re-run election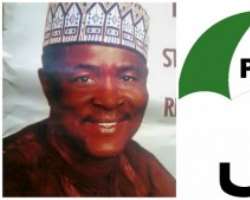 The fortune of the Peoples Democratic Party in the national Assembly has improved by one with the declaration of a former Chief of Air Staff, AVM Isaac Alfa of Peoples  winner of Kogi East Senatorial re-run election held on Saturday with 57,575 votes to defeat five other candidates.
Also Haruna Idoko of All Progressives Congress was declared winner of Idah state constituency re-run by the Returning Officer, Professor Femi Ajayi.
APC was barred from participation in the election due to an Appeal Court judgment which restricted  it from fielding a candidate.
While announcing Alfa winner, Returning Officer, Professor Lucky Ovwhasa, said candidates of ACPN, KOWA, MPPP, UPP and the Labour Party scored 1,793, 888, 498, 349 and 11,908 votes, respectively.
The senatorial election was held in eight out of the nine local governments in Kogi East senatorial district. They are Bassa, Dekina, Ankpa, Olamaboro, Ofu, Idah, Igalamela/Odolu and Ibaji. The election was held in 236 out of the 1,080 polling units in the senatorial district, while only 140,297 out of the 643,559 registered voters in the area participated in the election that was conducted by 1,390 personnel. In the state constituency, Idoko scored 8,346 votes to beat his closest rival, James Ukwubile of PDP, who scored 8,274 votes.
The result of Ofu state constituency re-run election is still being awaited. Bello reacts In his reaction, Governor Yahaya Bello of the state described APC's victory in Idah state constituency as a testimony of how strong the party was. Bello, who spoke through his Chief Press Secretary, Kingsley Fanwo, equally congratulated Idoko on his victory. The governor said the peaceful conduct of the election showed the high orientation of the people towards the electoral credibility agenda of President Muhammadu Buhari.
"Today, the people of Idah were convincing in their affirmation of their belief in the ideology and development trend of the APC-led administration in our state. "I thank Kogi electorate for sending a message to the outside world that what we are doing here have the approval of the Kogi people," he said