Music: Rotex—Dead Again (Cover) | @iamrotex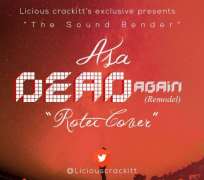 Following the release of Producer Liciouscrakitt's Remodel of ASA's Dead Again. Rotex has decided to jump on the song and do his cover to it in support of his friend and associate , the King Kong producer.
Rumor has it that Licious has in works other Remodels of several popular songs in what is supposedly going to be The Sound Bender series.
Rotex on this song expressed deep sentimental thoughts that bothers between hate and resentment about a girl who seem to have broken his heart. could this guy be telling us something way deeper than we think? be the judge . Rotex is one to watch closely.
Direct Download Link:-
http://k003.kiwi6.com/hotlink/g9po5mfdii/DEAD_AGAIN.mp3
Website: http://www.PaPaPaMedia.com