MYSTERY FIRE GUTS EFCC OFFICE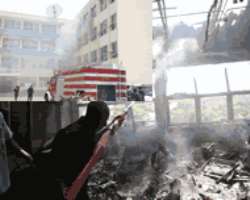 Mystery fire, yesterday, gutted the legal department of the Economic and Financial Crime Commission (EFCC) office in Ikoyi Lagos.
Four officers of the department were torched while some important documents were burnt to ashes.
Chairman of the commission, Mrs Farida Waziri has ordered probe into the fire incident to ascertain the cause.
Daily Sun gathered that at about 11.00a.m, while staffers and operatives of the commission had settled down for the day's job, they noticed heavy smoke coming from a room in the legal department.
It was also gathered that before the workers could find solution to the fire outbreak, it had spread to other rooms.
Daily Sun also gathered that men of the state and federal fire services, when contacted stormed the scene and succeeded in putting out the raging fire at about noon.
Some of the files in the affected office were burnt while others hitherto, salvaged were badly damaged by the water used in putting out the fire.
Meanwhile, the fire incident caused heavy traffic jam along Awolowo Road as operatives of the agency and the police cordoned off the areas to prevent hoodlums from hijacking the situation. A Public Relations personnel, Willson Uwujare told Daily Sun that the fire may have been caused by power surge. He noted, however, 'we were using generator as at the time of the incident, so the surge couldn't have come from the Power Holding Company of Nigeria (PHCN). He said only three offices were affected by the fire.
Confirming the incident, Head Media and Publicity, Mr. Femi Babafemi said the chairman of the Commission, Mrs. Farida Waziri had ordered a probe into the incident.
In a statement, made available to Daily Sun, Babafemi who described the fire outbreak as a minor incident said not much damage was done to the affected facility. He said Waziri had ordered a probe into the incident.
He said 'at about 11.30a.m, Tuesday, three out of the13 offices occupied by the legal unit of our Awolowo Road, Ikoyi, Lagos office were affected by a fire out break that reportedly started from one of the offices.
He said it was, however, gratifying that the fire was quickly put out through the prompt intervention of men of the fire service in Ikoyi before it could spread to other offices where sensitive case files were kept.