TAIWAN OPENS FIRST OFFICE IN CHINA TO PROMOTE TOURISM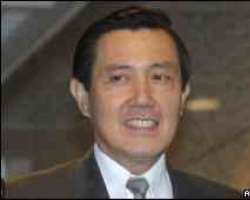 Taiwan is to open its first office in mainland China since the two sides split at the end of civil war in 1949.
The office – known as the Taiwan Strait Tourism Association's Beijing Office – will try to encourage more Chinese tourists to visit the island.
The opening of the office is a further sign of improving cross-strait ties.
Taiwan's President Ma Ying-jeou came into office in 2008 focusing on reducing tensions between the two former rivals.
Since Mr Ma opened up Taiwan to Chinese tourists in mid-2008, the number of Chinese visitors to the island has skyrocketed.
Popular
Now up to 3,000 Chinese tourists can visit each day – more than one million tourists from China have already come here since the opening.
Last year, the number of Chinese visitors ballooned to 22% of the total number of foreign visitors, up from just 8.5% the previous year.
And in the first quarter of this year, Chinese visitors surpassed those from Japan for the first time as the biggest group of visitors.
Opposition party officials have warned Taiwan was becoming too economically dependent on China, which still wants it back one day.
But few are complaining about the more than $1bn (£656m) the Chinese spent here last year. Many Chinese are curious about Taiwan.
The flood of Chinese tourists has made Taiwan one of the few Asian countries to see an increase in the number of tourists last year, despite the global recession.
But Taiwan's office located in Beijing is being billed as a non-governmental office because the two sides still do not have formal government-to-government relations, and have yet to sign a peace treaty.
Money and staff for the office, however, has come from the government's tourism bureau.