GUNMAN KILLS SOUTH AFRICA OWNER OF TEAZERS STRIP CLUBS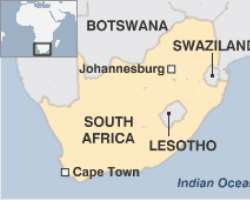 Emmanuel "Lolly" Jackson, the owner of South Africa's Teazers strip clubs, has been found shot dead at a house in Johannesburg, police say.
Police are hunting the gunman, who allegedly fled in Mr Jackson's vehicle.
Mr Jackson, 53, owner of South Africa's biggest chain of strip clubs, was reportedly shot 15 times.
The self-titled "King of Teaze" had appeared in court in April on charges of intimidation, extortion and assault after a fight with a stripper.
A man telephoned the police on Monday night to say where they could find Mr Jackson's body, a police spokesman said, adding that the motive for the shooting was not known.
The BBC's Pumza Fihlani in Johannesburg says Mr Jackson was a flamboyant man who lived for fast cars, women and money and never shied away from controversy.
Orange Lamborghini
He denied having links to the underworld.
"Every time there is a drug deal or a murder in a Hollywood movie, it happens in a strip club, so they all think I am some kind of mafia character," he said in an interview with Business Report in 2007.
In 2005, he was reportedly arrested for driving his sports car at 249km/h (155mph) in an orange Lamborghini. He said he was on his way to church, reports the Reuters news agency.
Teazers, founded in 1996, with six branches across South Africa, was famous for its aggressive advertising campaigns.
Last year, during the controversy over gender tests for South Africa's world champion athlete Caster Semenya, it was ordered to withdraw an advert which featured a semi-naked model with the caption, "No need for gender test".
He has been sued by several former employees, including a Bulgarian woman who said Mr Jackson had confiscated her passport while she worked for him.
He said he kept foreign employees' passports to stop them "running away with a rich farmer" or losing their documents.