AER LINGUS SAYS ASH CLOUD CHAOS COST IT 20M EUROS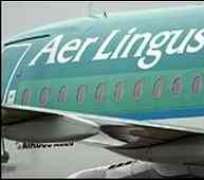 Aer Lingus has said that the disruption to air travel caused by volcanic ash cloud last month has cost it about 20m euros ($26.3m; £17.2m).
But it said this was an initial estimate, and the final figure depended on the actual level of customer claims.
Its comments came on the day that fresh risks from the volcanic ash cloud led to a further grounding of flights.
All flights in and out of Northern Ireland and the Irish Republic have been grounded from 0700 BST.
Aer Lingus said it was suspending all services to the UK and Europe until 1pm. Rival carrier Ryanair cancelled all its flights to and from the Irish Republic and Belfast from 6am to 2pm.
Airspace over Scotland's Outer Hebrides has also been closed, but flights in the rest of the UK are operating as normal.
'Challenging'
In a trading update, Aer Lingus said that total revenues for the three months to 31 March fell by 1.8%. The operating loss for the quarter was 37.8m euros, compared with a deficit of 74.8m for the same three months of 2009.
The company said: "While the trading environment remains challenging, early indications on second quarter revenues are positive."
But Aer Lingus added: "We have limited visibility over the booking profile for [the rest of the year] and our key markets remain subdued.
"It is also uncertain whether the recent Icelandic volcanic eruptions will have a longer term impact on passenger travel plans."