VOLCANO ASH: EU MINISTERS REVIEW AIR TRAFFIC CONTROL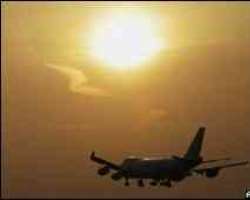 European Union transport ministers meet in Brussels later to discuss ways to improve its response to last month's volcanic ash disruption.
Ways to improve the EU's management of air traffic will be considered, following criticism of its response.
The meeting comes amid fresh disruption from Iceland's volcanic ash.
Airspace over parts of Northern Scotland is closed, while flights from Northern Ireland and the Irish Republic will be grounded from 0700 BST.
The ban is currently in place until 1300 BST.
Tuesday's extraordinary meeting of European ministers follows criticism from the airline industry that governments took an over-cautious approach to the crisis, grounding flights unnecessarily.
More co-ordination
Ash from Iceland's Eyjafjallajokull volcano triggered a shutdown of European airspace, paralysing many airports and stranding hundreds of thousands of tourists and business travellers.
Flights resumed eventually resumed after six days of disruption.
Spanish Transport Minister Jose Blanco said "a joint reflection" was needed.
Last week, a spokeswoman for EU Transport Commissioner Siim Kallas said that had there been more co-ordination at EU level, air traffic could have resumed up to three days earlier.
EU transport ministers are now under pressure to speed up implementation of a plan that would introduce trans-national airspace blocks.
That would replace the 27 different air traffic controls currently operating European airspace.
The European Commission has said that during the crisis the EU member states were applying risk assessment models in line with guidelines laid down by the International Civil Aviation Organization (ICAO), a United Nations agency.
The Association of European Airlines has said Eurocontrol, the body that oversees European air safety, should have been directly involved in the decisions on air traffic management.