Madonna unveils younger-looking hands after anti-aging treatment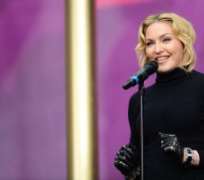 Madonna has rarely shown her hands in the past few years — until now. (Photo: Getty)
You can use all the age-defying creams you can get your hands on, but your hands will always give you away. As the years go by, crepey skin, prominent veins, and sun spots on your hands reveal your true age faster than any other part of your body, says Prevention .
But some stars who have access to the best plastic surgeons and treatments on the planet will go to great lengths to turn back the clock. According to the Mirror , Madonna has tapped into the fountain of youth in the form of a groundbreaking new beauty treatment called "redermalization mesotherapy" — and she's spent £ 250 a pop (or about $330) on a series of treatments at a London clinic to give her hands a youthful glow.
The procedure, which apparently originated in Russia, takes 45 minutes and involves 80 to 100 micro-injections of amino acids, vitamins, and hyaluronic acid "to stimulate the production of skin-plumping collagen," says the Mirror . Amino acids and hyaluronic acid form unsightly bubbles on the skin, but within about 24 hours, hands regain visible volume and elasticity, resulting a smoother, more wrinkle-free look.
frequently been photographed wearing gloves, possibly to shield the telltale signs from the public eye. Aging hands have cruelly been dubbed "Madonna mitts" by the tabloid media, and, according to the Daily Mail ,
in 2013, the number of women who had hand surgery rose by 18 percent.

Although aging skin is inevitable, there are ways to preserve the youthfulness of your hands.

" The skin on the hands is one of the most sun-exposed sites on the body," says Dr. Anjali Mahto, a consultant dermatologist and spokesperson for the British Skin Foundation . This can manifest as wrinkling and pigmentation spots often seen on the back of the hands. It is therefore important to remember to apply sunscreen to this area if you want to minimize the changes that occur over time."

Mahto won't comment on redermalization mesotherapy, citing the "poor evidence base," given that the procedure is very new. However, she does say, "What can help rejuvenate the hands is a combination of dermal filler, laser therapies, and chemical peels."

Madonna is famous for putting a lot of effort into trying to freeze time and preserve her looks. A macrobiotic diet combined with yoga, dance, resistance training, yoga, barre workouts, Pilates, and more keep the Material Girl stunningly fit, according to her trainer .

Madonna's camp hasn't commented on the recent claims, but the Material Girl herself has spoken in the past about her aversion to plastic surgery. According to the Daily Mail, she said, " 'I am what I am. And I don't like the idea of someone putting you to sleep, then taking knives to you."