S KOREAN HEAD PLEDGES 'RESOLUTE' PROBE OF SHIP SINKING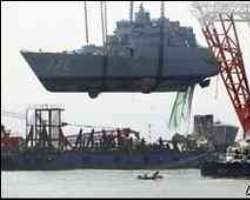 The South Korean President, Lee Myung-bak, has promised a "clear and resolute" response to the 26 March sinking of a warship, the Cheonan.
He said that he had an "intuition" as soon as the sinking occurred "that it was a grave international issue involving inter-Korean relations".
The sinking of the Cheonan caused the loss of 46 lives.
Investigations have so far suggested the sinking could have been caused by a torpedo but no country has been blamed.
Mr Lee's latest comments were delivered live on television to a bi-annual meeting of 150 of the country's most senior military generals – the first time the gathering been addressed by the country's president.
Asymmetry
The BBC's Seoul correspondent John Sudworth said the event was clearly designed to send a strong message of reassurance to the public.
We should deal some kind of blow against those forces which made our officers and men sacrifice their lives
Kim Tae-young
South Korean Defence Minister
What if North Korea was to blame?
He said the sinking had caused questions to be raised about the country's military preparedness.
Mr Lee said lessons must be learned, and once the cause of the sinking is determined, clear and resolute action must be taken in response.
He also addressed concerns that the South Korean military might need to be re-focused, "taking into account our special situation of two hostile forces facing each other".
He said South Korea must be better prepared to tackle "asymmetric" military threats.
"With resolute determination, we must reform the military in all aspects, including emergency response and reporting systems, intelligence-gathering and discipline," Mr Lee said.
He added the Cheonan incident had reminded the South that North Korea had artillery batteries pointed towards the South only 70 km (44 miles) away from the Southern capital, Seoul.
South Korea's defence minister had earlier said those responsible for the deaths of 46 sailors on board a warship that sank after an explosion must "pay a price".
Kim Tae-young promised "punitive action" against "the perpetrators who killed our soldiers."
So far the investigation team has said only that they have found evidence of an underwater explosion and it is not known whether fragments of any weapon have been discovered.
North and South Korea are still technically at war, since the 1950-53 conflict ended without a peace treaty.
Over the years there have been several naval clashes off the west coast of the peninsula, in the area where the Cheonan went down.