My career, marriage hopes and other things – Yemi Alade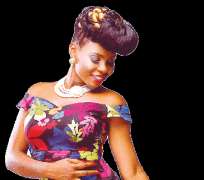 Sassy songstress, Yemi Alade, 26, was recently endorsed as a brand ambassador of Nairabox, a digital wallet that allows users to pay for goods and services within the application.
In this chat with she speaks about the new deal, a series of losses at BET Awards and hope for a blissful marriage.
You just signed a new endorsement deal with Nairabox; what's that Yemi Alade's effect we should expect?
I think the effect is already taking place, you would feel it once you become familiar with Nairabox. I expect everything positive from this because the benefits are much. If you are spending money and you still make money from the transaction, it is exciting and a good business. It is something everyone should key into.
You are an ambassador of many brands; how do you combine all the responsibilities and challenges that come with staying true to them?
It is better to be busy than to be idle. And most cases you don't get two of the same kinds of endorsement, it is always different products. After the duration of an endorsement deal, another brand will approach you. I have never experienced a clash.
Your album, 'Mama Africa,' has done considerably well. What's next in the pipeline?
My album, 'Mama Africa,' is what I am pushing at the moment. I have released four videos off the album as we speak. I have done a video for Africa, Koffi Anan, 'Ferrari' and 'Nagode'. I have the Swahili version of 'Nagode' too. So, we've done those I mentioned and we are still working on more videos.
It seems your recent album is a reflection of the African continent?
Yes, the recent album is focused on Africa. Remember that the tittle is 'Mama Africa,' so it has to be Africa. You've been nominated for BET Awards three times consecutively and you didn't win any.
How does this make you feel?
BET Awards is a big ceremony and the African category only has like six nominees. We all know that in Nigeria alone we have over 15 artistes who are doing well, both male and female. For me to be picked among the first six, there times in a row, it means that I am doing something good. I have been nominated in the past three years. I didn't come home without something. I came home with a lot of experience, I was seated next to Beyoncé and you had everyone you could think of in the world of music. I learnt a lot, so I didn't come home unfulfilled.
Don't you feel pressure as a singer, especially being a woman?
The pressure is there definitely because I have to keep up with what the male counterparts are doing. I have no excuse. It is really a struggle, especially here in Africa where women are looked upon as secondary to men. I am sure you know what I mean. So, it is a lot of psychological and physical battle we encounter as either top or upand- coming artistes.
What has kept you going?
First is God, He has been my backbone all through my time in showbiz. I also have a team that doesn't sleep, Shout out to Effizy Music Group. The passion has really helped me too because money cannot buy passion regardless of how much.
Would you say the Peak Talent Show was the defining moment for you?
Definitely Talent is God-given, but the Peak Talent Show was the right step in right direction. It made me take the first professional step in my career and I am grateful for that.
How far have you gone with your fashion and clothing line?
Something big is about to happen, people should relax and watch out.
Your fans are still interested in when you plan to start a family. Are you thinking of marriage anytime soon?
Whenever God says it's time, it is time.
When it comes to scandals, you are quite clean. How have you been able to walk this path unscathed?
I am just being myself; I am not looking for trouble. - New Telegraph.