#Euro2016 Final: Ronaldo, Payet, Eder's Goal And More Lead The Conversation On Facebook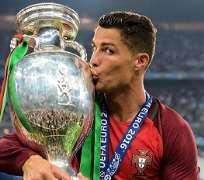 Following the success of the just concluded UEFA Euro 2016 football tournament in France which saw Portugal win their first ever major title, Facebook has stated that the tournament was one of the most talked about sporting events ever, with 195 million people having 950 million interactions (10th June to 10th July).
Aside catching up with old friends and family members, Facebook is also where people talk about football - especially in real-time – so following Portugal's extra-time win, Facebook looked at how people buzzed about the match. The Final of the UEFA
European Championship had 45 million people having 146 million interactions.
Top five moments in the match (globally)
1. Ronaldo lifts the trophy
2. Éder's goal
3. Final whistle
4. Ronaldo goes off injured
5. Kick off
Top five most discussed players in the final (globally)
1. Cristiano Ronaldo 53%
2. Pepe 10%
3. Nani 7%
4. Dimitri Payet 6%
5. Ricardo Quaresma 5%
Top five most discussed players in France were:
1. Cristiano Ronaldo 51%
2. Dimitri Payet 12%
3. Moussa Sissoko 8%
4. Olivier Giroud 4%
5. Pepe 4%
Top five most discussed players in Portugal were:
1. Cristiano Ronaldo 44%
2. Ricardo Quaresma 10%
3. Pepe 6%
4. Éder 5%
5. Dimitri Payet 5%
About Facebook
Founded in 2004, Facebook's mission is to give people the power to share and make the world more open and connected. People use Facebook to stay connected with friends and family, to discover what is going on in the world, and to share and express what matters to them. Facebook has 1.04 billion daily active users on average worldwide and 7.2 million daily visitors from Nigeria.
About Red Media Africa
Red Media Africa ( http://www.redmediaafrica.com ) is the PR & Empowerment Marketing division under the parent brand, RED.
It focuses on using inspiration, empowerment and action to help brands and organisations connect with their audiences, enhance their bottom-lines and lead in their industries. It has 6 major practice areas: Corporate Practice, Technology Practice, SME Practice, Governance Practice, Faith Practice and the International Practice - with work for brands across Nigeria, Ghana, Kenya and South Africa.
RED owns the continent's largest portfolio of youth media brands. Its Content Division holds brands across TV, radio, online and events including Y! Magazine,YNaija.com, Rubbin' Minds, #YTech100 and the The RED Summit. It also anchors a development firm, The Future Project, which projects include Africa's leading youth platform, The Future Awards Africa, HowCanIGetInvolved.com and Aiki.ng, which is run in conjunction with Microsoft.‎