Presidency denies secret recruitment in CBN, NNPC, FIRS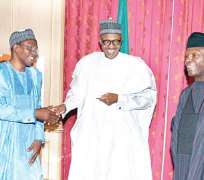 The Presidency has denied as inaccurate, reports of illegal recruitment in federal agencies said to have been influenced by top members of the President Muhammadu Buhari administration.
According to the Senior Special Adviser on Media and Publicity to the Vice-President, Laolu Akande, he said government was working on making the process more transparent.
His denial followed allegations that recruitment into agencies such as the Federal Inland Revenue Service (FIRS), Nigerian National Petroleum Corporation (NNPC), Central Bank of Nigeria (CBN), Nigerian Prisons Service (NPS), among others, did not follow due process, as beneficiaries were those connected to officials of government.
Speaking to some reporters in an interview in Abuja, he said 'some of these reports are inaccurate. What we heard is that government is working to ensure that we develop in a more transparent process.
'We are committed to going forward to ensure that some of these procedures are refined, fine tuned and made to become more transparent,' he said.
Also speaking on the various job creation initiatives by the administration, Akande noted that applications were already being received for the graduate employment scheme in a way, he maintained, was transparent and verifiable by anyone who cares to check.
'The first thing about this process is that it is transparent and that is why we are using a platform that everybody can go and check. That is the first thing.
'That is why we are insisting on applications. NDE is involved. The ministries are involved. When we have a project that cuts across ministries, we need coordination and that is what the Presidency is doing.
'So, it is for the reason of bringing about effective co-ordination of some of these programmes that Mr President has asked the Vice-President to coordinate this programme to bring the ministries together.
'It is not just something that is done by one ministry and you don't want a situation where everybody would be going in different ways.
'The Presidency exists for the purposes of coordinating the job of government. So, that is why it is being coordinated,' he said.