COMBATING SICKLE CELL DISORDER; ADVOCACY AND SENSITIZATION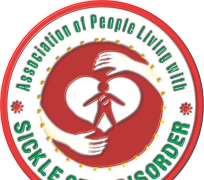 Like the parable of the two little mice that fell into a bucket of cream whereby the first mouse quickly gave up and drowned while the second mouse wouldn't quit but struggled so hard that eventually he churned that cream into butter and crawled out, the Association of People Living With Sickle Cell Disorder has continued to choose to be that second mouse.
It is this choice to stop being the first mouse that would be relegated to be background, tolerated, abused, ill-treated, that birthed this association sometime last year and it was the observance of World Sickle Cell day in 2015 that stirred the whirlwind that brought APLSCD.
The group has insisted consistently from the moment they caught this vision last year, to engage all stakeholders on the issue of sickle cell disorder. And as they engaged them and insisted that their birth, given the level of scientific advancement and awareness is crass cruelty and that the society owes them an extra attention. There is an Igbo adage that goes, "onye kpatara nku ahuhu si ngwere bia ra ya olili." Translated as "every action has consequences which should be accepted by the actor."
The group has continued to employ the services of the media which involves increasing the intolerance level of the society towards marital unions that would produce sickler babies, and increasing the sense of responsibility of the general populace towards ameliorating the condition of the sickle cell patient and empowering them, via sensitization.
The drama of the evolution of APLSCD, from an idea loaded with passion to a system that now heals, restores hope, empowers and tears down strongholds of bottleneck bureaucracy and corruption, has never relented from being articulated for the whole world to see via the mass media.
The Association of People Living with Sickle Cell Disorder's challenge from imposters posing as government workers who, instead of helping, cause murky waters, never deterred them. They have resolved they shall never stop pushing, regardless of certain government functionaries who tried tarnishing their image before the governor; an act that is ludicrous, to say the least, given it is on record that the association has never stopped acknowledging the Anambra state government for how it has been available and accommodating of APLSCD.
APLSCD has, with the aid of a load of well meaning Anambrarians achieved the following within less than one year;
- Empowerment of more than 300 APLSCD members via giving them rent and school fees; a record in the operation of NGOs. People are now trouping in from Delta, Enugu, and Imo state to be empowered.
- Laws have been reviewed, involving sensitization and intensive awareness, in Anambra state, courtesy of this association.
- Inspiring the establishment of a special sickle cell centre at Nnamdi Azikiwe Teaching Hospital, Ukpo, courtesy of Prince Engr. Arthur Eze which provides free medical services to sickle cell patients as well as rehabilitation services for those of them who are chronic drug dependants.
Experience has taught this organisation within their barely one year of existence that the way out of the malaise called sickle cell disorder is ADVOCACY and SENSITIZATION. The only weapon with which they have been able to touch so many lives and make so much impact, while still anticipating even greater impact, has been these two techniques.
Partners:
APLSCD has, under the vibrant leadership of Ms Aisha Maureen Edward, been able to coopt the partnership of Prince Engr. Arthur Eze, the Nigerian Medical Association, NMA, Pharmaceutical Society of Nigeria, PSN, the Catholic Church, the Anglican Communion, the ANAMBRA state House of Assembly, Patent Drug Dealers Association, Sun Newspaper, Authority Newspaper, Fides Newspaper, Orient Daily Newspaper, Daily Times newspaper, Catholic Women Organisation, Traditional rulers, Mr Peter Obi, to mention but a few, and they continue soliciting for more partnership in the fight against sickle cell scourge.
PRESSING NEEDS:
Association of People Living with Sickle Cell disorder recently published a booklet that looks at the sickle cell scourge; its prevention and management and has commenced its distribution to all schools, churches and organisation and is in dire need of vehicles that would aid them in distributing these books.
They also require cooperate bodies and philanthropists who would sponsor this project of ensuring every single man, woman and child gets a copy of this highly educative booklet which has contribution from medical experts, policy makers and other stakeholders.
The association also need ambulances that would be on the stand by in the 21 local governments that would be saddled with the duty of round the clock availability and transportation of sickle cell patients who experience crisis associated with their condition.
There is also a dire need for budgetary provision for the medical services and more Sickle cell specialist clinics evenly distributed in the 21 local governments of ANAMBRA state to facilitate ease of access to good medical attention by sickle cell patients.
The association also require special housing quarters for sickle cell patients as most of them, given their high susceptibility to infection, find it difficult to live just anywhere.
Finally, the association is bothered by the limited number of qualified psychologists and psychiatrists to attend to their psychological issues which are usually severe and involve drug addiction of a staggering gravity.
CONCLUSION:
The good news is that, unlike in the previous years, there has not been any record of death amongst sickle cell patients. The Association of People Loving with Sickle Cell disorder attributes this to the more sincere and all-out, head-on approach of the organisation to address the issue of the scourge in all its ramifications and engage all stakeholders in the fight. A lot of progress is being made and to God be the glory.