Fayose Hails FHC Judgment Resolving PDP Leadership Crisis, Urges Cooperation With Markafi's Caretaker Committee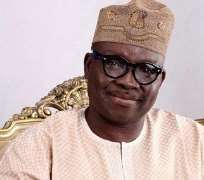 Ekiti State Governor, Mr Ayodele Fayose, has hailed the Federal High Court, Port-Harcourt judgment, affirming the appointment of the Senator Ahmed Markafi led National Caretaker Committee of the Peoples Democratic Party (PDP), saying "the judgment has resolved all issues concerning the leadership of the PDP and all genuine lovers of the party must now sheath their swords and support the National Caretaker Committee in the overall interest of the party."
Governor Fayose, who reacted to the judgment through his Special Assistant on Public Communications and New Media, Lere Olayinka, said the Port-Harcourt Federal High Court judgment has put paid to the antics of those who wished that the PDP is disorganised so as to silent opposition permanently and continue with their draconian rule unchallenged. The governor called on all gladiators in the party leadership crisis, which the court has now resolved to put the crisis behind them and allow the party to move forward.
"I am happy that the court has finally put to rest all issues concerning the leadership of the PDP because the Federal High Court, Port-Harcourt judgment, which affirmed the Port-Harcourt National Convention that dissolved the Senator Ali Modu Sheriff led National Working Committee and constituted the Senator Ahmed Markafi led National Caretaker Committee is a declarative judgment and not an interim order or interlocutory injunction.
"The judgment goes to the root of the crisis and since the Independent National Electoral Commission (INEC) and the security agencies themselves were categorical in their position that today's judgment will form the basis of their position on the PDP leadership issue, it should be clear to all that it is only the National Caretaker Committee that can be related with by anyone.
"However, since it is a family affair where there should be no victor and no loser, all genuine lover of the PDP must put the past behind them and support the National Caretaker Committee so as to return the party's lost glories," the governor said.