Student Leader Carpets FG For Clearing Buratai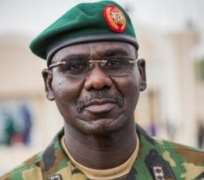 In an overreaching effort to clear the Chief of Army Staff, Lt. Gen. Tukur Buratai on his acquisition of properties in Dubai, the Federal government has shown to Nigerians and the whole world that it is selective in its anti corruption fight.
Over the past one year, Nigerians have been treated to an anti-corruption fight akin to the Group Areas Act (1953) of the Republic of South Africa where the White minority allocated choice areas to itself and also distributed resources for infrastructural development to itself alone and left the black minority to wallow in abject poverty.
The APC-led FG acts as both judge and jury whenever it's cabinet members or party faithfuls are alleged of corrupt practices but are quick to alert EFCC and other anti-corruption agencies to charge other alleged persons to court.
I wish to draw the attention of the FG to some sections of the EFCC Act which nullifies it's recent clearing of the army chief.
They are listed as follows:
5. (1) The Commission shall be responsible for
(a) the enforcement and the due administration of the provisions of this Act;
18. (1) The Federal High court or High Court of a State has jurisdiction to try offenders under this Act.
(2) The Court shall have power, notwithstanding anything to the contrary in any other enactment, to impose the penalties provided for in this Act.
(3) In any trial for an offence under this Act, the fact that an accused person is in possession of pecuniary resources or property for which he cannot satisfactorily account and which is disproportionate to his know sources of income, or that he had at or about the time of the alleged offence obtained an accretion to his pecuniary resources or property for which he cannot satisfactorily account, may be proved and may be taken into consideration by he Court as corroborating the testimony of any witness in the trial.
Source: http://www.nigeria-law.org/Economic%20And%20Financial%20Crimes%20Commission%20(Establishment )%20Act.htm
Inferences from the above (from the last to the first)
* Accused/alleged person in ownership of assets (financial or physical) which is disproportionate to his or her source of income is already ripe for trial
* Even if there is a law or enactment contrary to the provision of Section 18(2) of EFCC ACT 2012, the Court shall notwithstanding it, have jurisdiction to try and impose penalty(s) on the accused
* The Commission's (EFCC) constitutional duty is to enforce and administer every provision of the act including charging the alleged persons to court for it to try or prove.
Based on these provisions, EFCC should as a matter of urgency charge Lt.Gen. Buratai to court to be tried. I hereby challenge the FG to allow the rule of law to have its course and not shield anyone notwithstanding their status in the current administration.
Comrade Jeremiah Olatinwo
Former NANS ZONE D PRO
08077888285