ASUU opposes scrapping of post-UTME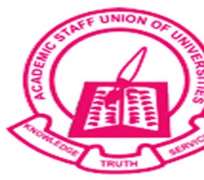 The Academic Staff Union of Universi­ties (ASUU) says the quality of tertiary education in the country could improve if the institutions are allowed to regulate their students admission process.
Biodun Ogunyemi, the union presi­dent, said such freedom would enhance the quality of education.
Oguyemi spoke against the backdrop of the Federal Government's decision to introduce a uniform guideline for ad­mission of candidates for the 2016/2017 academic session.
At a recent joint policy meeting to de­cide the cut off mark for students seeking admission, the government announced the scrapping of post-unified tertiary matriculation examination (UTME).
The Post UTME is the second stage of screening usually conducted by universi­ties for the final selection of candidates qualified for admission for an academic session.
Adamu Adamu, minister of education, had threatened to sanction any univer­sity or tertiary institution found con­ducting examinations under any guise to admit students.
He further directed tertiary institu­tions that had collected money from candidates for such purposes to immedi­ately refund it or face appropriate sanc­tions.
The ASUU boss told NAN that such directive encroached on the autonomy of the institutions.
'I think government should give these institutions the chance to regulate them­selves,' he said.
'They should decide for themselves, the process they dim fit to admit their students. The Senate of universities for example, should decide on the process they want to use in selecting candidates.
'We do not think it's right for govern­ment to decide the method of screening of the candidates, indeed, we want to at­tain some level of sanity and quality in the system.'
The unionist added that government could only come into the process by put­ting in place the necessary guidelines as part of their oversight functions.
According to him, it may not also be easy for institutions that had already collected money for the conduct of the post-UTME or screening in whatever guise to refund such money.
He added that this was because such money could have been diverted to oth­er purposes.
Ogunyemi noted that most universi­ties were under-funded and therefore, might have used some of the money to attend to urgent needs of the institution.
'Some of the arguments raised in this entire episode is that universities or ter­tiary institutions were using the conduct of such examination to make money,' he said.