Edo 2016: Obaseki Mocks Ize-Iyamu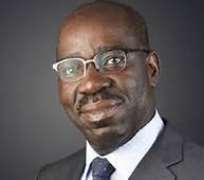 The All Progressive Congress APC candidate in the forth-coming governorship election in Edo State Mr. Godwin Obaseki has expressed worry over the way and manner the fractional PDP candidate of Edo State pastor Ize Iyamu is going about the governorship campaign coming up in September. According to Obaseki he expected Ize Iyamu to conduct himself in a very civil manner rather than turning politics into media war.
This came as a respond to the weekend publication by Ize Iyamu where he confronted Governor Adams Oshiomhole for campaigning for the APC candidate and wonder if Obaseki was not a grown up man to campaign for himself. But in a reaction, the Media Aide to Mr. Godwin Obaseki, Benjamin Atu has Challenged pastor Ize Iyamu to fix a convenient date for a debate between him (Ize Iyamu) and Obaseki on issue based campaign and speech eloquence.
The statement has also caution the PDP candidate not to pride himself to high heavens because Godwin Obaseki is ready to floor both the senator Ahmed Makarfi-led caretaker committee candidate which produce Ize Iyamu and the candidate which the Ali Modu Sheriff fraction will also produce on Wednesday. APC in Edo will not lose sleep over any of the candidate from the PDP.
Atu challenge Ize Iyamu to show the people of Edo State the result of his previous performance, explain his role in the embezzlement of the state resources, as well as present to the people of Edo State his justification for joining the governorship race. PDP is the old testament of Edo State. We are in the era of grace and APC has come to offer grace. As a New Testament state, we are not going back to Egypt the city of iniquity and godfatherism. The statement has therefore challenge any PDP leader in Edo State who was proud of their reign in the state to come out and publicly campaign for Ize Iyamu or any other candidate that may also emerge from their fractional primary this week. The excellent performance of Governor Adams Oshiomhole has made the PDP in Edo State and other PDP states to lose sleep; that was why the Governor of Delta and others sent their thugs which some have already been arrested in their effort to participate in the ongoing voter's registration in Edo. APC is firm and unmovable irrespective of the crafty preparation of the PDP.
The statement has however cautioned Pastor Ize Iyamu against making inflammatory statement noting that Mr. Godwin Obaseki will never throw caution to the wind by responding to Ize Iyamu who has already made himself a monumental public nuisance. When Ize Iyamu won his primary, Obaseki congratulated him and urge him to run a campaign devoid of hate speeches but wonder if Ize Iyamu has no agenda for the state apart from mischievous accusations. He maintains that the unguarded utterances by the fractional PDP candidate were a show of shame and display of childishness.
Public office is for adults and not children like Pastor Ize Iyamu who has taken politics as his career for life. Benjamin Atu has therefore called on the Leaders of the PDP in Edo State to celebrate Mr. Godwin Obaseki who has gotten to the peak of his career life and made the state proud by his Eloquence in various public lectures and presentation as a world class consultant who has consulted for various captain of industries all over the world and has used his influence to draw several development to Edo State.
Benjamin Atu
Press secretary
08038847596