'Wounded Lions' Are Behind Smear Campaigns Against General Buratai And The Military Institution—Says HURIWA; AFRIRIGHTS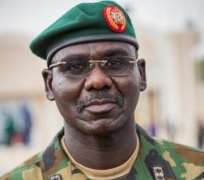 Gentlemen of the media we have called for this interface as part of our regular meetings and strategies for the sensitization of Nigerians on their responsibilities and duties as citizens of Nigeria which must be geared towards constructive advancement of good governance in the Country.
Specifically we are here to speak on the matter reported by an online platform concerning the ownership of some properties or property offshore by the Chief of Army Staff.
Recall that few Months back when we got wind of some well oiled subterranean plots by a disgruntled erstwhile top member of staff of the office of the National Security Adviser under the immediate past dispensation to begin a smear campaign against the person of the COAS we addressed you on it.
The statement then was as follows: Two pro-democracy Non-governmental ORGANISATIONS - HUMAN RIGHTS WRITERS ASSOCIATION OF NIGERIA (HURIWA) and ASSOCIATION OF AFRICAN WRITERS ON HUMAN AND PEOPLES RIGHTS (AFRIRIGHTS) have raised alarm of a well coordinated plot by some forces opposed to the counter terrorism war in the North East of Nigeria to plant sponsored but false newspaper stories to impugn the character of the Chief of Army Staff Lieutenant General Tukur Buratai.
HURIWA and AFRIRIGHTS are alleging that a mole within and without the military establishment have concluded plans to sponsor soft tissues of lies alleging violations of the assets declaration made by the Army Chief with specific reference to an offshore housing assets in Dubai the United Arab Emirates. Excerpt from the release endorsed jointly by Comrade Emmanuel Onwubiko for HURIWA and Esther Orok for AFRIRIGHTS reads thus:
Sometimes one often wonders what is wrong with us in this part of the planet, our tendency to ruin or destroy people for inexplicable reasons really baffles me. We are so destructive to the point of dragging people that are performing very well in their respective endeavors because of jealousy and sentiments.
Just recently, some faceless individuals under the aegis of concerned citizens tried to drag the good name and reputation of the Chief of Army Staff, Lieutenant General Tukur Yusuf Buratai into the fray of the ignoble arms procurement deal. That effort fell flat on the face of the perpetrators. Typically, hell bent in destroying the General, they came up with another condemnable smear campaign. They again embark on another round of smear campaign, alleging that he has investments outside the country.
Being concerned about the conduct of public officers and the need for propriety, our organization took it upon itself to investigate this allegation just like several others, and found out that they are untrue. For the avoidance of doubt the said investment was legitimately cumulated over long period of time and was declared to the Code of Conduct Bureau on his assumption of duty as Chief of Army Staff in July 2015. The records are there at the Bureau for all those interested to check.
General Buratai has nothing to hide and leads by personal example which he encourages his subordinates to emulate. He was the first military service chief to declare his assets and asked all officers to do so. This is unprecedented and has no doubt given credence to the government's anti-corruption crusade. Possibly, this and several other accomplishments are some of the reasons why these faceless detractors want to drag his name into the mud.
Unknown to them, any campaign of calumny against this war hero especially in the battles against Boko Haram terrorists, is not just a personal attack on him as person, or the Nigerian Army, it is an insult and assault on our collective being as Nigerian people. This is because it is an attempt to distract him and the Army he leads from clearing the remnants of the Boko Haram terrorists and other good works of repositioning the Army to be truly the pride of the nation. The predators no doubt, were equally determined through this unpatriotic act to rubbish the government but they will not succeed as the truth will always vindicate him.
Possibly they are doing all these out of ignorance as General Buratai has always remained steadfast and incorruptible. As a matter of fact, the Nigerian Army has for a long time never had a wonderful, visionary and exemplary leadership like what we are witnessing now. The welfare of troops has been enhanced. They now have uniforms and boots and other equipment, while training is being intensified. What is more appealing is the improved civil-military relations and respect for human rights.
We implore the perpetrators of these smear campaigns to please eschew this and diabolical plans as it will not portend any good to the society and them.
Instead of distracting the Chief of Army Staff, we should support and encourage him and the Nigerian Army as they continue to serve the nation better."
These facts are indisputable even now that the sponsor has successfully planted this allegation on the online platform and some other online and social media platforms are simply running with these tissues of jaundiced allegations even without proper investigations. Happily the Army has officially debunked them.
The self evident truth is that the sponsor of this allegation believes that he and his Co travelers have an axe to grind with the Army authority because he and his newly recruited Co travelers have eventually lost out in the power configuration and are now doing everything outside of the rule books to destroy the image of the top Army General whom they see as the man who sealed their fate in the military institution.
We will refrain from mentioning names but not out of ignorance of the character(s) behind this blackmail but because of certain legal issues we will stop at this. But be rest assured that this current smear campaign has been on the planning stage for many Months and indeed the mastermind and his Co sponsors made several attempts to plant this same story in some Abuja based mainstream newspapers but failed because the allegations failed the simple test of credibility and thorough scrutiny.
This onslaught on the integrity of the COAS has now moved to a level where all sorts of innuendos are being spread because of the publication of the allegation by an online platform that at best can be described as cesspool of gossips and jaundiced stories that mostly can't stand the test of time.
Recall that this same online platform has become notorious for planting stories and waging war against select persons even as the founder of the online platform that has splashed these tissues of lies against COAS was reported as admitting that he is not a PROFESSIONAL JOURNALIST AND THAT HIS PLATFORM IS AN ALL COMERS AFFAIRS. Sahara Reporters is also known to have waged campaign of calumny against Mr. Nnamdi Kanu of the Indigenous People of Biafra and the South East of Nigeria generally. So this online platform that has severally splashed hate stories against Igbo can go at any length to serve the interest of its paymaster.
So it is just anything goes. Sadly, because of the high gullibility of most Nigerians who take hook, line and sinker even stories that are completely fabricated out of the illiterate mindsets of their authors, these latest rounds of gossip used in this discredited online medium is one amongst many that it
has planted to attempt at damaging the public standing of many individuals especially those of them in government who may not want to confront this vessel of half baked stories to a standstill.
Already the Army has responded. But some persons are questioning how come that the COAS bought himself a property in Dubai as if it is no longer legitimate for honest persons to honestly acquire property offshore when in fact as persons who have travelled we in these organizations are aware that even GATEMEN in some NITECLUBS in Britain who are originally from Nigeria have honestly bought property in such prestigious places as central London.
We know many honest traders in Abuja who legitimately own properties in Dubai and other foreign jurisdictions.
Whilst we don't hold brief for COAS we make haste to ask Nigerians to be patient and await the final reports of the Presidential panel on the so called arms procurement scandal since most of these 'revelations' are being challenged in competent courts of law for determination. The Nigerian Government is yet to publish the final reports of that panel. As you know a member of that panel was recently caught with huge bribe money which he allegedly was keeping for some high net persons in some Anti-graft institutions. Already the Acting Chairman of EFCC allegedly mentioned as a close friend of this indicted erstwhile top Air force General has accused his close friends of duping unsuspecting members of the public. Sahara Reporters which holds brief for EFCC right from the tenure of the first Chairman has begun another campaign of calumny against the Chief of Staff to the President and the DG of DSS and ridiculously mentioned the Publisher of Thisday as being part of the larger plots to unseat the acting Chairman of EFCC. This goes to show that in that discredited online medium it is just anything goes without regards for objectivity, balance, fairness and quality control which are the hallmarks of credible media outlets.
We may have our differences with the way certain actions of some soldiers have happened especially in some internal security operations for instance we have protested vehemently the killings of scores of Igbo protesters recently in Onitsha and we have loudly called for investigation and prosecution of the officers on ground and operatives who shot and killed unarmed protesters but on this particular sensational story of owning offshore property made against the COAS we are sure of the biased and destructive intents of the authors and we are on record to have raised alarm few months back in which most media houses gave us extensive coverage but we are doing this to let Nigerians know that this is an attempt to hoodwink the Presidency to have doubts about the integrity of his top Generals.
This is simply an illiterate smear campaign and as you know most of the underlying ingredients of falsehood have contained therein in that gossip story have been successfully debunked by the Army spokesman.
Lastly, it is a fact that the dust over the recent gale of retrenchment in the Army is yet to die down so it is these atmospherics that are been exploited by this blackmailer and his Co-travelers to whip up public sentiments by seeking to demolish the records of integrity and transparent service to Fatherland that are being rendered by Lieutenant General Tukur Buratai.
We urge President Muhammadu Buhari to discountenance and disregard and indeed resist this latest attempt to pull down an excellent military officer who in our considered opinion based on empirical data is totally committed to rendering quality service to our FATHERLAND NIGERIA. We thank you for honoring within such a short notice and on a Holy Day like today which is A SUNDAY.
COMRADE EMMANUEL ONWUBIKO
NATIONAL COORDINATOR