Christian Youth Commend Buhari For Appointing Tor Uja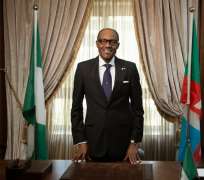 The Coalition of Nigerian Christian Youth (CNCY), an umbrella body of all Christian Youths Conglomerated in the institutions of Higher learning's, youth based NGO's of other rated youth organizations have commended President Muhammadu Buhari for the appointment of Mr. Tor Uja as the new Executive Secretary of the NCPC.
The group in a media briefing addressed by President. Mr. Olatunji Adeniyi, also uses the medium to appreciate and commend the innovative policies and developmental programmes of the former Executive Secretary, Mr. John Kennedy and staff of the Commission, towards achieving the nationalistic aims and objectives of the Commission as set aside by the Federal Government secular regulations.
"We strongly abide with the current administration's adherence to appointing people with high spiritual content capable of ' being translated into action for national development, security, probity and accountability, in line with the policy of the federal government of Nigeria" the group stated.
The group strongly opined, that in consonance with the last administration's all encompassing policies aimed at achieving the federal government's mission statement to provide a conductive environment for the smooth air-lifting of pilgrims to Holy sites and to ensure responsible leadership at all levels for a hitch-free pilgrimage exercise throughout the year, the incoming administration is encouraged to align, propagate and execute the ideas and policies of the last administration for development continuity and unprecedented landmark that is required at this trying time of our national polity.
The CNCY therefore restated its commitment to the commission's core values of commitment to Christ, integrity, Professional Excellence, Team Spirit and synergy and we will co-operate with all structures that are pragmatically responsive to the aforementioned values.